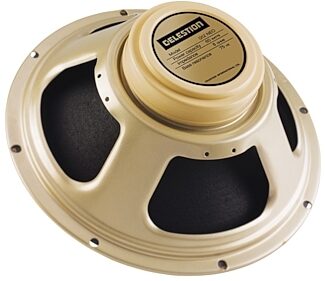 Built with a neodymium magnet, this Neo Creamback is about half the weight of its classic predecessor, but still projects the same warm, mesmerizing tone.
$199.00
---
No Credit Check

No Credit Check
Overall User Ratings
(based on 1 ratings)
Submitted February 5, 2021 by Russell
"Worth the money&quot
Verified Customer
zZounds has verified that this reviewer made a purchase from us.
Written by one of our gear experts!
Probably the most versatile speaker out there right now.
Sound
I watched many hours of speaker comparison videos before I decided on these, and I'm glad I did. These are expensive but they did exactly what I want. They brought upper midrange character out, adding to clarity without sounding fizzy or broken like greenbacks. I chose the neo because I was looking to tighten up bass as well and these sure did that. I used to have to cut the bass on my amp a good deal which I thought weakened the overall sound. No longer an issue now, that knob is back to noon. I will say that they probably aren't designed for extreme music, and lend a more vintage type tone to things, like early 70s Celestions. However, they are not loose in the low end and are relatively quick overall so they can do the heaviest stuff but with a more classic profile. They blend very very well with everything, especially vintage 30s which is one of the main reasons I bought them.
Features
These are feather light; it's scary. Once I can afford two more I will be able to lift up my 4x12 all by myself.
Ease of Use
The creamback series seems to be designed to make anything sound good. Many different tones came through sounding better than the other speakers I had on hand.
Quality
Seems as well built as any Celestion I've ever had. The ones I got were made in UK; I'm not sure if there is an Asian version.
Value
You really pay a premium with Celestion and this speaker is no exception. Easily the most expensive speaker I've ever bought. However, the weight and just general versatility of these make you appreciate why. Still overpriced in my opinion.
The Wow Factor
These passed the vaunted first rehearsal test. Other band members noticed the difference. Many times "gee what you're playing there is pretty cool, I never heard it before" was said in this rehearsal. It's one thing to be a loud band, it's another to be a good, loud band. Being able to hear notes rather than white noise puts you more on the good side.
Musical Background:
20 years
Musical Style:
Hardcore punk
3 of 4 people (75%) people found this review helpful. Did you?
Thanks for your opinion!