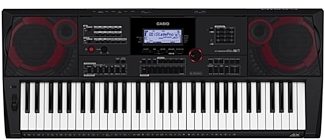 Hear how good a mid-budget portable keyboard can sound with the Casio CT-X5000 -- its 800 tones exhibit realism that is unmatched in this price range.
Overall User Ratings
(based on 2 ratings)
Submitted July 18, 2021 by a customer from gmail.com
"Better than any other keyboard in this price range&quot
Verified Customer
zZounds has verified that this reviewer made a purchase from us.
This is NOT an incredible keyboard. It is not a highly professional keyboard. It IS HOWEVER, the very BEST keyboard in its price range. The 'feel' isn't Yamaha, Korg or Roland, but the sound it produces is pretty darn close, even better in some instances. I wouldn't recommend this to a beginner, but it is quite an excellent 'intermediate' keyboard. In my opinion, the saxophone sounds in this is absolutely stunning in realism. It's not easy to play, but once you get the hang of it, and can make the right connections on tone, tempo etc. you can make this thing dance !! It's a very good keyboard and I'm happy with it for its purpose.
4 of 4 people (100%) people found this review helpful. Did you?
Thanks for your opinion!
---
Submitted June 11, 2019 by Reginald H M in Culver City, CA
"Casio did not hit a home run with this keyboard&quot
Verified Customer
zZounds has verified that this reviewer made a purchase from us.
Purchased this keyboard to add "better quality" acoustic sounds to my live performance rig. While many of the sounds are slightly better than my PX-560, overall the gain was not worth the purchase.If your a pianist, you will not be happy with this action. It appears to be "spring loaded" and feels cheap. Expressive play is therefore limited. Perhaps, this will not be the case with others, but I am totally unhappy with the action!Polyphony is a measly 64 notes! Since, I bought it for just occasional switch over to acoustic instruments (think instrumentals) that did not seem a big factor. However, I feel if you are possible looking at this unit as a solo instrument- you better think again!The speakers are very good, but unless you live where they can be used, you will probably be using phones to practice OR connecting to your mixer and the PA system when playing out. The speakers project upwards,or towards you if the unit is stacked. Sooo, using the speakers when doing a live performance (except in small venues) is out of the question.The "menu based" access to the sounds, is quite a step down from my PX-560 touchscreen- A BIG STEP DOWN! Quick changes during a live gig is not going to happen! I would not even consider taking this instrument out on a live performance. I'm a solo act, and this instrument does not allow for smooth quick access to the sounds or mods to the effects etc. For "at home", usage it's fine for probably most people. But if you gig, it will present a lot of problems, it's not live performance friendly..There are many other "little" things I could cover, ie the volume control requires it to be set at 2:00 to match the PX-560, which is quite loud at 11:00. With no string resonance the piano's sound "tinny" to me. An additional octave in the bass would make it more "playable" to a pianist. Your technique has to change while playing this instrument, and I find that a negative.Summing up, if you're a gigging musician, and a solo act, this is not the instrument for you. If your looking to try out an arranger keyboard, perhaps this will fit the bill.
Musical Background:
Been playing since 1963, play professionally
Musical Style:
All over the board.
16 of 24 people (67%) people found this review helpful. Did you?
Thanks for your opinion!