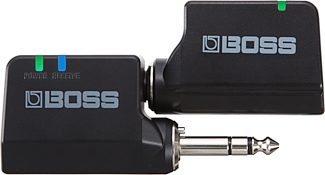 The Boss WL-20 grants the freedom of a wireless rig with no bulky bodypack! Just plug the transmitter in your guitar, and the receiver into an amp or pedal.
Overall User Ratings
(based on 3 ratings)
Submitted November 20, 2018 by Chuck Wallace in La Porte, TX
"Finally! A Guitar Case Solution&quot
Verified Customer
zZounds has verified that this reviewer made a purchase from us.
I bought this for a traveling option and easy and carefree wireless option. It is easy to charge and comes with a cable to charge either or both the receiver and transmitter if you dock the transmitter in to the receiver. You can charge both independently if you have another USB mini cable. I get a good amount of use and can easily last a whole 4-5 hours. I like that it fits in my case easily and can be charged with a Mobile battery pack while I am at the gig while in my case. Sound is good and the range is great, about 30 feet is all I have really tried it may go more, but that is enough to move around when playing without the hassle of a cable trip or Jack Snap. I am 3-4 Months using it and am very pleased so far CJWII
Musical Background:
Guitar - Professionally
Musical Style:
Rock, Hard Rock, Metal, Classic Rock, Blues
13 of 13 people (100%) people found this review helpful. Did you?
Thanks for your opinion!
---
Submitted August 15, 2018 by Lonardo M in Daytona Beach, FL
"NO BATTERY REPLACEMENT&quot
NO BATTERY REPLACEMENT The unit itself is OK and a convenient size however, after contacting Boss a few times they finally admitted the batteries are NOT replaceable and don't know the battery life would be they emailed me back and said I quote: "The WL-20 Manufacturer Warranty is for 1 Year Parts 90 Days Labor. If you have an issue with the WL-20 Battery within Manufacturer Warranty Terms then it can be serviced/replaced by our Roland Boss Factory Service Department. We unfortunately can't provide you with the information regarding how long the unit will last this may change and may differ depending on usage." In my internet research I found this information again I quote: "The typical estimated life of a Lithium-Ion battery is about two to three years or 300 to 500 charge cycles, whichever occurs first. One charge cycle is a period of use from fully charged, to fully discharged, and fully recharged again." Also I quote: "If the voltage of a lithium-ion cell drops below a certain level, it's ruined. Lithium-ion batteries age. They only last two to three years, even if they are sitting on a shelf unused. So do not "avoid using" the battery with the thought that the battery pack will last five years". This means when the WL-20 won't hold a charge anymore after the warranty period you have buy a new one. These are one shot devices and I am disappointed at this. I might try to return it and continue to use my current wireless. With replaceable batteries.
Musical Background:
Decades of experience including Professional
Musical Style:
Classic Rock, Pop, Blues,Country
38 of 53 people (72%) people found this review helpful. Did you?
Thanks for your opinion!
---
Submitted April 20, 2022 by a customer from gmail.com
"Boss WL-20 Great!!...but&quot
Verified Customer
zZounds has verified that this reviewer made a purchase from us.
Tried another wireless but Boss was easiest to pair. Gig with it for about 2 years, only used cable before. Used on acoustic, electric, bass guitars and drum machine. Plugged into a Alesis SR18 into a TC Helicon Voicelive Touch 2 to a Bose Compact L1. Awesome, sounds great. For me, tonal difference not noticeable. But now I just started getting drop off, lost signal, lights off on receiver (on instrument), happened at live gig. 2nd drop during song had to stop and plug in old faithful, always ready, never have to charge spare cable. Check at home happened again, taking my cable. So comments that battery is not replaceable and lasts about 2 years is my experience. Loved it when it worked but at around $200 a pop and a life span of about 2 years, my $30 cable is a bargain and more reliable.
Did you find this review helpful?
Thanks for your opinion!