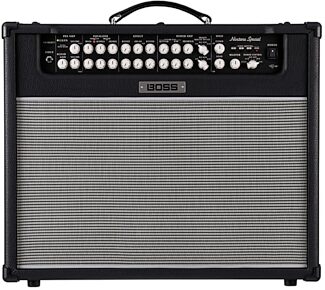 The Boss Nextone Special offers players a combination of authentic tube feel, 85 watts of solid-state dependability, and four separate power amp circuits.
Overall User Ratings
(based on 2 ratings)
Submitted June 1, 2021 by John L in Melissa, TX
"A little tweaking, and wow!&quot
Verified Customer
zZounds has verified that this reviewer made a purchase from us.
I don't write many reviews, but this amp is something, uh...special. I recently sold a bunch of tube amps and use modelers at church to accommodate our silent stage setup. I have a large collection of various guitars, and I wanted one amp for home, and possibly for gigging, that was versatile, sounded great, was a credible replacement for my previous tube amps, and was reasonably easy to use. I was drawn to the Nextone Special because of all of the front panel knobs. While that got me 80% where I wanted to be, the excellent computer-based application editor got me pretty close to 100% happy.My go-to tones are Marshall-based, Fender-based, Vox-based, and, occasionally, Mesa Boogie-based. And yes, they are ALL in here, yet with some surprises. One of the most magical elements to this amp is the power section. Not only are the power tube emulations very credible, but the bottom and top adjustments (high pass and low pass respectively) make the difference in taking great tones from the preamp section and making them almost perfect. Low end a little flubby? Then bring up the bottom control to tighten things up. Top-end a little too raspy? Just increase the top control and its smooth sailing. Using these controls is easy and super-effective...and all recallable from the presets.Marshall tones are relatively easy to dial in, and the key is in the bottom and top controls in the power section as mentioned above (using EL34 emulation of course). Vox is also relatively easy to get to with EL84 selected. I had to work on the Fender sounds a bit as my Silver Sky seemed to emphasize a nasty mid-frequency, which, in the computer-based editor, was a breeze to locate and dial out. Amazing.One of the surprises was found when trying to get the clean channel to overdrive. It is hard to do...until you bring the output power down and crank the master. There it is! And it is really good. If you want a tone of headroom, then you can get that too. Just run it on full power and engage the extra headroom switch if you so desire. Amazing pedal platform if you so desire.The next surprise was how good the Mesa Boogie tones can be gotten. The trick is to use the clean channel on an otherwise fairly American setting (EQ and power section) and then use the computer-based editor so that the boost is the Metal variant. Whoa - it totally chugs and is very musical. I was about to purchase an outboard pedal to get this sound before I tried this technique, and it is outstanding.The amp is amazing. Built like a tank as any Boss product is, and it sounds incredible. I wanted a single amp that works with all my (20) guitars and would inspire me to go into my home office/studio and just play for hours, and this has achieved that. I have read where some folks have been put off by the need to use your computer for deep editing. I understand that to some degree and, while the amp is excellent without those tweaks, it is simply incredible when you do use the editor. And it is super user-friendly. With the ability to store presets, you could very easily get things set up the way you want for a gig using the computer and then add the footswitch to access your tones at the gig.This is an amazing amp and scratches a big itch between the digital modeling world and the tube amp world. Buy one before Boss realizes they should be charging more. It's that good.
Musical Background:
Semi-pro
Musical Style:
Various, including Christian, rock, pop...
17 of 17 people (100%) people found this review helpful. Did you?
Thanks for your opinion!
---
Submitted December 12, 2022 by a customer from gmail.com
"Somewhat Disappointed&quot
I own many good tube amps but wanted a "backup" more dependable amp (just in case). I read all the reviews and thought this must be the answer. In my opinion "not the case", come on this does not emulate a great tube amp like a Marshall or Mesa Boogie. Yeah it sounds pretty decent and has lots of features, but still sounds and reacts like a solid state amp. Also not that impressed with the amount of tone adjustments within the 0-10 sweep of the knobs. Maybe close sound to a lower end tube amp, but still does not react in the same manner as any decent tube amp would. I have become quite spoiled with my last tube purchase being the Mesa Boogie Mark IV 35 watt combo which is barr none the greatest amp I have ever played through for tone quality, and also owning a top end Marshall JVM 215c so perhaps I have become an amp snob. But really this amp is not a 5 star which everyone has rated it as, in my opinion anyways. Wish it was all that they said, but sadly was disappointed.
of 1 people (0%) people found this review helpful. Did you?
Thanks for your opinion!