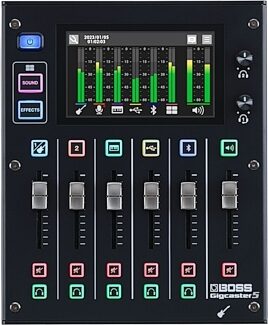 Capture or livestream your audio and video content with the Boss Gigcaster 5, a digital mixer and USB interface with premium guitar processing built in.
$479.99
---
No Credit Check

No Credit Check
Overall User Ratings
(based on 1 ratings)
Submitted September 7, 2023 by a customer from gmail.com
"You've Got To Try One Of These Out!&quot
We haven't been this excited about music making gear since that time we bought an early MkI Katana head and switched over to Studio One! So much good stuff inside this tiny mixer. Actually,it's a monster Boss guitar /bass modeling fx rig if using a GAFC foot controller. The on-screen tuner is as accurate as needed(we double checked it using our Peterson pedal tuner--both tight!). Amazing kit,wow
Sound
We use RME and Antelope Audio usb interfaces in the studio,but frankly the DSP front-end via the Gigcaster5 is a nice option to AA's onboard DSP effects. AA's fx are good kit,we use it a lot.
Features
BOSS didn't leave anything out. Considering the Gigcaster series price point,these are amazing units.
Ease of Use
Only wish list would be to have a Boss Tone Studio library just for the Gigcasters.
Quality
Plastic but hard n tight. Not USA hand made quality.
Value
You get everything,including the kitchen sink
The Wow Factor
We own a ZOOM L8 and a Gigcaster5. The L8 is preferable for larger podcasts but we presume the Gigcaster8 would fill the gap. We got BOTH our L8 and G5 for a similar price of the Gigcaster8 alone. Both are decent usb interfaces for input recording but wow the BOSS effects are dynamite.
Did you find this review helpful?
Thanks for your opinion!