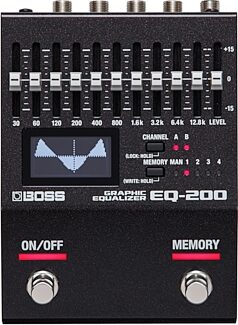 Surgically sculpt the perfect bass or guitar sound with the EQ-200. This dual 10-band EQ can also conveniently store up to four EQ settings for easy recall.
Overall User Ratings
(based on 1 ratings)
Submitted July 28, 2021 by Russell
"The new industry standard&quot
Verified Customer
zZounds has verified that this reviewer made a purchase from us.
Written by one of our gear experts!
This is probably the best EQ pedal out there when you take into account features and price. A complex pedal like this is going to have shortcomings but if you know you need something like this, this is probably the one to get.
Sound
This pedal does what it needs to do, and does sound good. I have run into no phase issues with it, although I doubt it has linear phase processing. The EQ channels aren't super skinny like on the Whirlwind, but they are usefully voiced. I imagine you will be able to change the Q and stuff like that with future updates. It has a very decent sounding 32 bit ADA converter in it, but it does add a digital-ness to the signal. It sorta squares out the low end (which can be a good thing) and can make the high end a little harsh if you are boosting a lot. Not every player will be bothered by this (I wasn't) but if it does you are better served by an analog EQ. I find that in the effects loop of an amp this is less noticeable, especially the high end harshness.
Features
The main feature of this is digital recall of presets with real eq faders for on the fly adjustments. From what I can tell it is the only graphic eq pedal out there right now that can do this besides the discontinued Boss EQ20. The Source Audio offerings are great but they are difficult to make adjustments on. And the Boss is the only one that runs on batteries! Great if you are using it for bass and don't want a pedalboard to lug around. If you are in a Pink Floyd cover band then this thing is obviously for you. You can set up two EQs in series or parallel, or have one in your pedalboard chain and one in your amp's effect's loop. Or, in a loop with just certain pedals. This makes it fantastic for recording. It's getting a lot more use in the studio for me than I anticipated. It can do all kinds of crazy stuff with midi but that's beyond my needsHowever, it has two main determents. One, you can't go from one patch to another and back again without an external footswitch or midi. You have to plan things out if you want to use it live and have seamless switching. The other problem is that editing patches can be kinda confusing since the faders aren't motorized. The LCD screen helps, but it's pretty small and doesn't look like the actual graph on the pedal. I realize that ten tiny motorized faders is a lot to ask for but this is a design compromise that the Source Audio doesn't have.
Ease of Use
It was very easy for me to just plug and play this. I would say that I rarely needed to boost or cut over 3 dB- I wish you could adjust the range of the faders to get more precise sounds. Possible with a software update I guess.
Quality
This is Boss, so you know it is built very well. I really like the design of the new 200 series dual pedals. It's a much lower profile than the older 20 series dual pedals and seems hardier as well. You could fight off several zombies with this as a weapon for sure and it would still work afterward. This enclosure seems to be the toughest design Boss has come up with yet, which is really saying something.
Value
The main competitors of this are the Whirlwind offerings and the Source Audio EQ pedals. They are all about the same price. The Whirlwind has a sound advantage but I haven't actually heard it in person to compare. The bass version might actually be worth the large size and awkward power supply. The Source Audio has some legs up on the Boss, but it is kind of a pain to change settings. However, you can hook that up to your computer or phone and run it like a plugin in a DAW which is pretty insane. I wonder if Boss will offer features like that in the future for the EQ200? The software on this pedal can be updated which has potential. The Boss offers three different EQ ranges but you can't adjust them beyond that. Plus, this is a global setting and can't be saved with each patch. However, the Boss is way easier to navigate feature-wise than the SA. I feel like the EQ200 is a good compromise between the SA and Whirlwinds that are out there. If you aren't down to spend $250 on a ten band EQ pedal, you should go with one of the MXR ones out there.
Manufacturer Support
The great thing about Boss is that you rarely ever need support from them because their stuff is built so well and is usually simple enough to understand without a manual. They have been helpful to me in the past, but not the fastest company to respond to inquiries.
The Wow Factor
EQ pedals aren't for everyone, but if you are obsessive about getting the right tone, you should give them a try. I got this primarily for bass, and the slightest adjustments finally nailed what I need to do. My band is loud and distorted, and the bass needs to fill out everywhere that it shouldn't be in the way. It's cool being able to have one setting for the pedal chain and another for the amp's effect's loop. That alone makes this thing more powerful than anything else out there. I think it's worth the money. Some way to better recall the faders (led strips down each channel?) and a more powerful range of frequencies would be great, and I'd pay more for those for sure. Right now the only real downside is the one-way patch switching, which can be mitigated with an external footswitch.
Musical Background:
28 years. 21 electric
Musical Style:
Classical, Hardcore Punk
4 of 4 people (100%) people found this review helpful. Did you?
Thanks for your opinion!