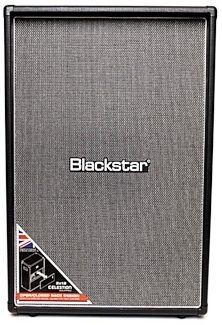 Hear your amp the way you want. This vertical 2x12" speaker cab features a removable back panel to change the voicing from an open- to a closed-back sound.
$499.99
---
No Credit Check

No Credit Check
Overall User Ratings
(based on 2 ratings)
Submitted August 16, 2019 by Loren M in Wichita kansas, KS
"Great looks but lacks on value&quot
Verified Customer
zZounds has verified that this reviewer made a purchase from us.
This review has been selected by our experts as particularly helpful.
Out of the box the form of the cabinet is great. Good front stitching, feels solid. However know that you are getting a cabinet that is not for the tone searcher. I went into this cabinet thinking I would switch out the 70/80's later for a v30 creamback mix. That is simply not the case, the back panel is GLUED and screwed. You wanna change a speaker or blow one and need to replace? This will require you destroying the back of the cabinet! So if you like 70/80's this is a nice looking and user friendly cab. If you like to tinker or replace, look elsewhere.
Sound
Sound is okay. You are working with 70/80's here so out of the box you get ice picky highs. After about 80 hrs of use the cabinet performs much better
Features
The option for a 16ohm or 4ohm is fantastic. Handles are just cabinet cutouts. Frankly I bought this cab with the sole thought of changing out the stock 70/80's to a creamback and a v30. Love that mixture in cabs so was looking forward to it. In lays my MAJOR gripe with this cab. The back portion is screwed in, so I remove the screws thinking I can switch out the speakers. Uhhhm nope. The back panel is physically GLUED to the back of the cab. I yanked and pulled, even pried. Essentially for you to switch out the speakers, you would need to destroy the back of this cabinet. Huge huge downside in my opinion. What happens if you blow a speaker? Yep gotta destroy the cabinet to get to the speakers.
Ease of Use
You will need to go into this knowing that 70/80's take a long time to break in. (Most people suggest about 80 hrs) The cabinet doesn't sound that good out of the box. Be prepared for long sessions of fooling with the treble control. I am close to the 60hr mark and the cab is loosing some of that harsh high end.
Quality
Cabinet is made to not implode if you bang it around or to survive being dropped. Corners are protected. Jacks feel nice and you get a solid click when inserting a speaker cable. As I mentioned this cabinet is GLUED together. So removing screws does not allow access to the speakers (yes the speakers are screwed in from the back. Front panel is NOT removable. Basically you are stuck w the factory speakers and as long as you don't blow one, this cabinet should work great for light duty gigs/smaller tours.
Value
If you have the idea of doing a speaker swap out later, it can't be done. You are stuck with what blackstar gives you.
Manufacturer Support
Not had to use them but have always heard good things about blackstar products
The Wow Factor
It looks great, sounds decent and has a great form factor. Cool slightly front slanted cabinet. Frankly I prefer the look over the Marshall vertical. Not having the ability to switch out speakers killed my good vibes on this cabinet.
Musical Background:
Touring musician
Musical Style:
Rock, blues
6 of 6 people (100%) people found this review helpful. Did you?
Thanks for your opinion!
---
Submitted February 3, 2019 by Rodd Helmer Jr in Jacksonville, FL
"Excellent quality and perfect for most environments&quot
Verified Customer
zZounds has verified that this reviewer made a purchase from us.
I have a 4 ohm amp so this was perfect. It's hard to find stuff that is exactly what I need in size from all aspects. Easily can rumble the stage in practice, jam or shows. 2x12 beast.I pump my Randall amp through this and it's pretty impressive. I like it more than a 4*12. Half the size and half the weight.However even though it's smaller in width than a half stack it's a monster competitor for my live game. Great for the main cab, not just extension.There is a splash of that Brit tone but it's not crazy obvious like a Marshall. So it's perfect for my taste.
Musical Background:
Been playing for 22 years I am now 34, did tons of gigining early on and now just a home jammer
Musical Style:
Progressive metal, Jazz, groove metal, blues
3 of 4 people (75%) people found this review helpful. Did you?
Thanks for your opinion!