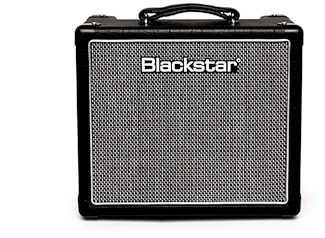 For huge tone at low volume, look no further than the 1-watt HT1R. With two distinct channels, lush reverb, and a headphone output, this all-tube amp rocks.
$319.99
---
No Credit Check

No Credit Check
Overall User Ratings
(based on 3 ratings)
Submitted April 5, 2019 by Allan B in Tempe, AZ
"Nice little amp!!&quot
Verified Customer
zZounds has verified that this reviewer made a purchase from us.
The consumer/prosumer amp market has been inundated with extremely versatile modeling amps and mind blowing amp sim software at ridiculously affordable prices. Sounds that I never dreamed of when I was a young player many decades ago can be had for a months' worth of Starbucks. I own a lot of this technology and it definitely has its place, but there is still nothing like the sound and simplicity of a good old tube circuit. Yes, technically this is a hybrid amp, but it has enough tube DNA to make that distinction irrelevant to me. If I could change one thing it would be to give an option to bypass the cabinet emulation in the output so you could use your own IRs, but for the price I can't complain. Their cab emulation sounds decent enough. If you are looking for real tube sound and dynamics for recording and practice and don't have a lot of space or tolerant family members or neighbors, I would suggest you take a serious look at this amp. It's basic but it's easy to use, sounds great, and is a nice addition to any small studio that won't break the bank.
Sound
I live in a small apartment so I mainly use it at very low volume or with the emulated output into my DAW. I really like the sounds I can get out of this little box. It's pretty basic with 2 clean and 2 OD voices, but you can get a nice wide variety of tones. The 8 inch speaker sounds, well, like an 8 inch speaker so don't expect booming bottom end. It has a speaker out so you can always connect it to your favorite cab.It has that Blackstar Crunch, but it might not be enough gain for metal players depending on what you are plugging into it. My EMG equipped guitar can get a nice smooth OD that sings nicely for leads and chunky rhythms, but my single coils can't quite get there. I don't have any to test, but for the most part it's a tube amp so it should take front end OD/Dist pedals well.It has a great crunch tone and it responds to dynamics like a tube amp should. If that 'in-between' sound is your thing, I think you will be very happy with this amp.Clean tones are decent. Not too shrill or muddy.The reverb is nice but don't expect cavernous, think more medium sized hall. It behaves like an in amp spring unit (without the boing) as far as how much verb you get out of it.If you use it for recording, it provides a great 'base tone' that you can add your DAW time based effects on top in the track and get some really great sounds.
Features
The headphone/cab emulation out is a great feature and the main reason I got this amp. I'm now able to get tube sound/behavior when recording and the best part for me is it's silent! The size is perfect for my small play area. It's roughly 10x12x6 so it fits anywhere.
Ease of Use
Plug your guitar in, push a button or two, and move a couple of knobs. The ISF tone feature is really nice and quick. It's not as precise as a 3 band EQ, but quick and dirty is what this amp is all about and I have no complaints. It's simple to use and only takes a few seconds to get the sound you want.
Quality
The build quality decent but not spectacular. Nothing to complain about or knock it down for. It's what I expected from a low cost import amp.
Value
I'm happy with my purchase, but the "value" is really about your use case so it's a tough one to judge. Don't equate value to price, equate it to what you need. I needed a small quiet amp for recording, but I wanted a tube amp. For $100 more I could have gotten a Fender Super Champ that was louder and more versatile, or for $100 less I could have gotten a modeling amp. They didn't fit my needs for what I was doing so there was no additional value for me. This amp's wheelhouse is low volume practice and recording, and IMHO that's the audience Blackstar was targeting. And for that purpose, I found no better option that fit my budget.
Manufacturer Support
I haven't had to utilize this yet. Blackstar has a decent website and community forum that answered a lot of my presales questions.
The Wow Factor
The fact that they can put such a great tube tone in a tiny box, and give you different options to send that tone out is pretty wow to me.
Musical Background:
Playing for 4 decades
Musical Style:
Rock, Prog, Jazz, Christian
41 of 41 people (100%) people found this review helpful. Did you?
Thanks for your opinion!
---
Submitted January 28, 2021 by a customer from gmail.com
"Well made&quot
Verified Customer
zZounds has verified that this reviewer made a purchase from us.
Well made amp sounds good for a 8 inch speaker. The Cleans are great and overdrive I like when pushed. The quality is top notch and well thought out.
6 of 6 people (100%) people found this review helpful. Did you?
Thanks for your opinion!
---
Submitted May 14, 2022 by a customer from gmail.com
"HT1r&quot
Verified Customer
zZounds has verified that this reviewer made a purchase from us.
I was excited to receive this,, got it,, and was impressed,, at the tone, and appearance,, broke it in gently,, used it every day,, and on the 20th day,, ac hum,, reduced power, and the Worst preamp, ive Ever heard. I thought my guitar electronics were faulty, well, with no guitar,, it sounded all messed up with tube , garble, loud AC hum,, sounded Terrible and it made my very expensive guitars sound aweful
4 of 4 people (100%) people found this review helpful. Did you?
Thanks for your opinion!