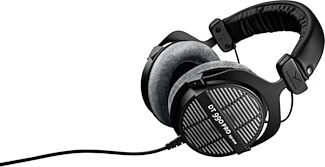 Hear your mixes like never before with a set of DT 990 PROs. This 250-ohm pair is optimized to work on professional mixing desks to produce a true sound.
Overall User Ratings
(based on 1 ratings)
Submitted September 24, 2021 by Xylor T in SACRAMENTO, CA
"I thought Sony MDR 7506 is the best for MIXING until Beyerdynamic DT 990 Pro 250 ohm came in&quot
Verified Customer
zZounds has verified that this reviewer made a purchase from us.
First, I've been using Sony MDR 7506 for more than the last 28 years in recording and mixing in music. I thought these are the best headphones for mixing. This year (2021) I decided getting another headphone is because I've always felt, my MDR 7506 had lacking certain "bass" and "mids." Everything I've done on MDR 7506, all my mixes had never been accurate for me. For years, I've wasted CDs and CDs and more CDs just to mix. Recently, I just bought my new Beyerdynamic DT 990 Pro (250 ohm). I didn't know if it's going to sound good or if it's accurate. 15 mins later, I started hearing a few things, such as, my drum fills are a little thin (or scoop'ish); my nylon guitar's are also thin and high; all my hit hats and crash are also loud and high (presence). I was worried. In my mind, I thought everything I've mixed in the last few weeks in my MDR 7506 is perfect and flawless. Later, I started compared both. Then I realized, my DT 990 is telling me that my mixes are a little thin and scooped and it's too much in the highs and I needed to decrease my bass. Lol… I started laughing myself - it's not because my sound is horrible in DT 990, rather, my Sony MDR 7506 is NOT accurate at all. No wonder why all my drums and bass had always been inflated; my tom fills were always thin. Wow, I had no idea. Lol. I had to remixed everything I've done in DT 990. I really like my DT 990. It's good for anything: listening, tracking, and mostly…MIXING. If you want something Non-compressed, the DT 990 will pick up any sound that you hadn't heard certain instruments before. This will allow you to re-record. On the Sony MDR 7506, I still like it for tracking and listening ONLY. NOT really good for mixing (now that I know. Lol.). On my MDR 7506, it kinda sound a little compressed. This is why it's a little hard for me to pick up certain instruments that you couldn't hear them earlier. If you want to listen a nice stereo audio sound, the MDR 7506 is good for this. BUT…I learned, it's way better to use my Beyerdynamic DT 990 Pro (250 ohm) for my mixing. You will be happy like me.
Musical Background:
30 years musician, gigging, recording
Musical Style:
Country, rock, metal, jazz (except R&B and Rap)
10 of 10 people (100%) people found this review helpful. Did you?
Thanks for your opinion!