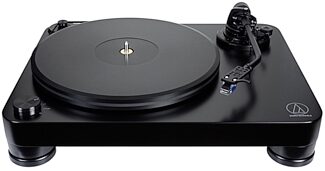 Upgrade your listening experience. The AT-LP7 features Audio-Technica's VM520EB cartridge, a J-shaped tonearm, and a built-in switchable phono/line preamp.
Overall User Ratings
(based on 2 ratings)
Submitted January 28, 2022 by a customer from outlook.com
"Approaching excellence&quot
Verified Customer
zZounds has verified that this reviewer made a purchase from us.
This review has been selected by our experts as particularly helpful.
If one decides to venture into the rairified area of high end, high fidelity you almost surely to be faced with component cost exceeding thousands each. The cost and the various amoubt of equipment can be overwhelming and may lead to confusion. Thus, it's important that your first choice is a good one. The Audio Technica WP7 is that type of choice. First, it's solid black look is striking. It has a very thick plinth composed of an exotic composite material that dies a great job of dampening vibrations. The sturdy legs are fully adjustable and end with rubber feet to aid in isolation control. The platter is composed of a delvin material. It's heavy to promote consistent speed, and moves with a buttery smoothness. Audio Technica states one does not need a mat. There is a nice J shaped arm, which connects to the plinth by a very good controls. There is an easy to read anti skate controls, and a VRT control if you wish to use a cartridge of different hight. The included VM520EB magnetic cart is a nice touch. It does a fine job and is easily upgraded. There is a front control knob an exposed, visible belt which smoothly ride around the platter, and an unattached tinted dust cover. The rear panel had controls for cartridge type; MC or MM, and inline or phono amp controls. The included phono cables are much better than the standard type normally included. And an inpute for the included power control. In all, it has a very nice, high end look. But looks do not mean much if the performance us lacking. Thankfully that's not the case with this table. First, it tracks with great ease. It easily passes any tapping text. In fact, nothing I did out if the ordinary stopped the table from tracking. And, due to a nice servo motor, speed is constantly adjusted and is accurately maintained. When combined with the before mentioned, occluded magnetic cartridge the sound is excellent. The table presents a wide, and accurate sound stage with very good separation. From low and high, the sound was excellent. No matter what vinyl I played, this table easily mastered. Without a doubt this is a great turntable. It's a great first step into high fidelity at a great price. Indeed its a component that approaches excellence in every way. Easily recommended.
Sound
I can't imagine any improvements that could be made with the sound this table produces. Of course as a component it's dependent on other equipment. But, if paired with competent amp and speakers the sound produced is sure to please.
Features
This is a no frills turntable. It appears Audio Technica decided to manufacture a high quality table, and this put the expense of construction into producing good, high quality. As a result you have a fully manual, belt drive table.
Ease of Use
This table was do easy to set up and use one has to hold back during initial setup. All connections were solid. It was up and running in less than an hour.
Quality
This is a very nicely constructed component. Not only does it look great, but it feels expensive and operates without a problem.
Value
Yes. In fact, this component is probably the best turntable priced under $1000 on the market.
Manufacturer Support
Its easy to contact Audio Technica and talk to a person. And, the techs are always competent, helpful, and respectful.
The Wow Factor
The table has a very appealing, and expensive look. Watching it accuratly spin and track is a pleasure.
10 of 10 people (100%) people found this review helpful. Did you?
Thanks for your opinion!
---
Submitted September 13, 2022 by a customer from gmail.com
"Audio technica AT LP 7 review.&quot
Verified Customer
zZounds has verified that this reviewer made a purchase from us.
This is an awesome turntable the sound is fabulous and it is built like a tank. The build quality surpasses anything near its asking price. You wont touch a turntable this good for perhaps 3 times its price. I use it for a home stereo setup I have some high end CD players and dacs and this turntable sounds much better especially with audiophile recordings. I am more than pleased with my purchase.
Sound
The sound quality is excellent with the stock cartridge I will probably upgrade it to kick it up a notch sonically.
Ease of Use
I use the Audio technica AT LP 7 currently with a Parasound phono preamp Schiit Lyr tube headphone amp Sennheiser HD 600s, HD 650s and Hifiman Sundara headphones and Pangea power cables plugged into a Furman classic power conditioner. This turntable is a giant killer it eats my Rega turntable for breakfast.
Quality
I think this turntable will last years it will just need simple maintenance, belt, stylus/ cartridge.
Value
I think this turntable is worth much more than the current asking price The build quality is excellent.
Manufacturer Support
I have not had to contact the manufacturer.
2 of 2 people (100%) people found this review helpful. Did you?
Thanks for your opinion!