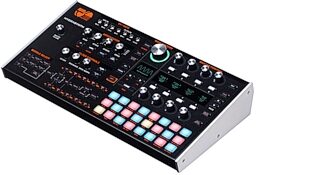 Get the crazy sounds of the Hydrasynth in a smaller footprint with this desktop model. Includes pressure-sensitive touch pads for expressive performance.
$799.00
---
No Credit Check

No Credit Check
Overall User Ratings
(based on 2 ratings)
Submitted May 14, 2021 by Steve W
"I love the Hydrasynth and zZounds.&quot
Verified Customer
zZounds has verified that this reviewer made a purchase from us.
First of all, I'd like to thank zZounds for their very fair return policy. I recently bought two synths in a row that had problems. Lemons happen even with the best companies. zZounds was very understanding and accepted both returns with no complaints.But, as is often the case, a rough patch led to a bright destination. I did not want to try a third synth from the aforementioned (unnamed) manufacturer. So I did some research and listened to my mentor who is a game developer and recording engineer. He recommended the Hydrasynth. Because of his 20 years of experience, I heeded his advice.I am not a musician but this is my fourth synth since last October. If you don't like to read manuals, you can probably coax interesting sounds from this. If you are willing to study and dive deep, I'm guessing the possibilities are endless.I am too tired to write a long review. But it was easy to hook my Yamaha Reface CS synth to this so I could use an external keyboard. You can also play the pads while you are playing an external keyboard. (That surprised me. For some reason, I thought the pads might not work when you attach a keyboard.)Anyway, I'm looking forward to the day when I finally read all of my manuals and create lots of compelling noise with my synths. (I bought three - MicroFreak, MiniBrute 2, and Hydra - of them from zZounds.)In short, every part of the Hydra seems to be top quality. (By the way, it comes with a very good printed manual.)I love the ASM Hydrasynth desktop and zZounds.
Musical Background:
None, really. I'm a "noise wrangler."
Musical Style:
"Noise wrangler"
5 of 6 people (83%) people found this review helpful. Did you?
Thanks for your opinion!
---
Submitted January 2, 2020 by Shred Flintstone in Magic town, OH
"The best new hardware synth ,period!its a monster&quot
Verified Customer
zZounds has verified that this reviewer made a purchase from us.
Everything has been implemented into this extremely powerful synth We have a bunch of synths in our studios and this Hydrasynth is keeps and boundsbetter. The control panel is completely intuitive and I never touched the manual to make amazing soundscapes.The keyboard is top notch, the build quality is the finest I've played.The magnitude of sound design is enormous with 212 morphing wave tables, 5 Envelopes, 4 mutant osciliators., toms of studio quality effects better than some of my expensive rack gear.I don't think there is a single thing they didn't include in this instrument.Imagine panning in the stereo field just the oscillators.32 mod matrix slots.The ease of use is a delight.....And the sounds you can create have never been heard before...this takes Serum to the nest leve.Buy this and be happyWe liked it so much we bought both the keyboard and the desktopAnd the Z has the best sales force anywhere!
Musical Background:
Pro musician and studio owner
Musical Style:
Everything
13 of 14 people (93%) people found this review helpful. Did you?
Thanks for your opinion!