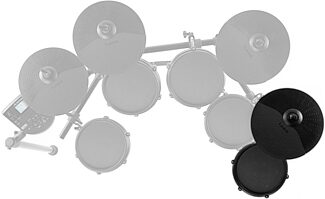 Expand your kit with Alesis! The Nitro Mesh expansion offers a 10-inch cymbal pad and an 8-inch mesh drum pad, with all mounting and connecting hardware.
$119.00
---
No Credit Check

No Credit Check
Overall User Ratings
(based on 1 ratings)
Submitted September 17, 2023 by B F in Airway Heights, WA
"The Missing Link&quot
Verified Customer
zZounds has verified that this reviewer made a purchase from us.
I got the standard Nitro Mesh kit a few years back, and while I do love playing it (you can see my review of it on that page), I did notice over time that it just didn't feel "right" to be playing drums without that second crash cymbal! I know plenty of great drummers do, but I found myself swinging for that second crash so often that this year I finally broke down and got it..... and I'm SO glad I did! It might sound silly, but it totally changed the feeling of the kit from "a few steps above a child's toy" to "I'm playing drums without the neighbors calling the cops".
Sound
"Sound quality" doesn't technically apply here - it's an e-kit expansion pack. The "sound" it produces on its own is intended to be quiet enough to not disturb people around you ;) The module that comes with the full kit does include onboard drum sounds, which are usable for practice but not great if you're trying to sound like an acoustic kit. However, plug it into another source of drum sounds (say, a computer with a decent drum VST loaded up), and you've got every sound you can imagine!
Features
At this price, we can expect some corner-cutting, so there are a few things that could be better - mostly the rack hardware. The rack itself is metal, but not really heavy-duty - you could certainly do some light gigging with it, but a tour would be out of the question. The mounts and T-handles for the wingnuts are all plastic, which is again fine for light-duty gigging, practice, rehearsal, and recording, but I wouldn't trust it for extended gigging. With that said, I've been playing the full kit at home for the past 4 years, and it all still works great with no damage or issues so far.
Ease of Use
I tried the included module years ago when I first set up the kit after I got it, and the "acoustic" sounds are definitely sub-par for recording. Again though, it has both MIDI I/O and USB out ports to send MIDI to any compatible device you can think of, so I just use it to trigger samples in any of my favorite drum VSTs. I did find that the hi-hat and cymbal-choke control signals are using MIDI aftertouch instead of specific note numbers/names, which is a very odd choice on Alesis's part. This caused issues with my favorite (Ugritone) drum plugins, but fortunately, Ugritone's tech team was able to troubleshoot with me to get that working. I'm lucky I'm very "techy", or I wouldn't have been able to get them the data they needed. Alesis's idea of "General MIDI" mapping leaves a lot to be desired.
Quality
As noted above, there are parts that I would prefer to see made of heavier-duty materials, but it HAS held up really well to the last 4 years of me thumping on it.
Value
YES. Even with the lightweight rack, low-quality sounds on the module, and near-nonexistent manufacturer support, you will not find a better-quality set of mesh-head drum triggers at anywhere near this price, and this expansion pack upgrades the "basic" jazz-focused kit to a full-on rocker! Totally worth it.
Manufacturer Support
THIS is where it gets kinda nasty - Alesis's support SUUUUUCKS. It's not just me having one (or three consecutive) bad experience(s), either - it's a known issue that anyone who's had to reach out to them has found. This is another thing you can easily find dozens, if not hundreds, of accounts of through your favorite search engine. I still like the product, but if you have any issues, your options are basically "love it or return it".
The Wow Factor
This upgrade pack is ESSENTIAL to get the standard Nitro Mesh kit up to "rock" standards, and the price is really good! If you want to add a couple extra pieces to your Nitro, get this. Hell, get two and add a couple of 1/4" splitters - you can pack that rack full if you want!
Musical Background:
Guitar player for over 27 years - also bass, drums, and slide whistle when called upon ;)
Musical Style:
Metal, punk, funk, blues, rock
Did you find this review helpful?
Thanks for your opinion!