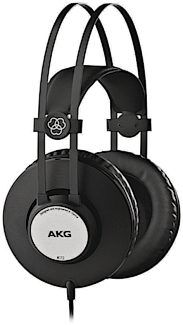 Need to stock up on tracking-room cans? A great value, AKG K72 headphones deliver a neutral response, serious isolation, and a strong-yet-lightweight build.
Overall User Ratings
(based on 2 ratings)
Submitted October 20, 2017 by Dave Smith in Pittsburgh, PA
"Awesome at Thrice the Price!&quot
Verified Customer
zZounds has verified that this reviewer made a purchase from us.
I just received these headphones and they're probably the best sub-hundred-dollar set I've ever had. Clean, balanced and full, they are so far serving every purpose I need them for. Using them to program patches on my DigiTech rp360XP, they tell me exactly what it will sound like through my amp. Listening to music is a pleasure as they cover bass, mids and highs in near perfect balance. Are there better? Sure. Are there better at this price range? Not even close. I've even used them for monitoring mixes and have zero complaints. I mean, yeah, if you need to hear a hummingbird fart through the mix of a dubstep Metallica remix, go for the $300 headphones. If you need a set that's not a toy and don't have a lot of money, or if you need to outfit a recording studio or rehearsal space with multiple sets of cans, go with these AKG's. I use a TC Helicon Voice Live 2, and during band practice, I can hear a perfect representation of my various reverbs, delay decays and harmony voice balances. Rating these on parameters other than sound, they fit the bill wonderfully. They are light but sturdy. The cans fit completely over my ears and even wearing my eyeglasses I can barely tell they're there after a couple hours. Complete sound blocking? No. But more than sufficient for average use listening to music, practicing or mixing. The one-side cable is long enough for anything I need it for and a welcome relief from dual-sided cords hanging down my neck and down the front of my body. The handy screw-on 1/4" adapter covers all of my many needs. In short, these cans are great and for $40, I'll replace them if I do break them or something.
Sound
The best balanced sound I've heard in anything under $100.
Features
The single sided cord, its ample length and screw-on adapter are exactly what I need.
Ease of Use
The cans themselves are über-comfortable! The fit is surprisingly secure for such a light feel.
Quality
So far, so good. Solidly built for a lightweight set. The cord is secure and doesn't kink.
Value
These AKG's are easily worth three times the price.
Manufacturer Support
Haven't had to deal with them yet. For $40, I doubt I ever will. They break in a few years, I buy new ones. But I don't think that will happen with moderate care.
The Wow Factor
Not much WOW in a set of headphones, it's not like I'm expecting a need to add them to my nighttime crimefighting outfit or have them translate Sindarin. The sound is pretty WOW, though.
Musical Background:
Professional and semi-pro. Over 35 years.
Musical Style:
Mostly prog-rock.
9 of 9 people (100%) people found this review helpful. Did you?
Thanks for your opinion!
---
Submitted November 11, 2017 by Skip Stover in Broadway, VA
"You get what ya pay for&quot
Verified Customer
zZounds has verified that this reviewer made a purchase from us.
Ok there only $40 headphone but you'd think they last a day. I put them on to try them out, first they are clunky and not very comfortable. Then when removing them the ear pad fell off. I've had $20 Sony headphones last ten years and given away still working. I guess I expect too much.
Musical Background:
hobby
3 of 8 people (38%) people found this review helpful. Did you?
Thanks for your opinion!