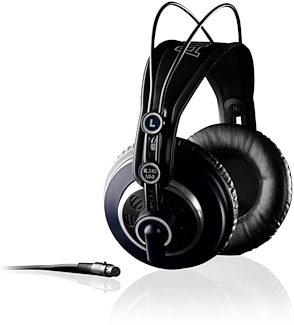 An update to an industry standard, AKG K240 MKII headphones deliver lower impedance, higher sensitivity and accurate frequency response from 15 Hz to 25 kHz.
Overall User Ratings
(based on 4 ratings)
Submitted June 2, 2012 by a customer from gmail.com
"The Best headphones for anything...studio...audiophiles...home users...outdoor use&quot
I've tried many, many, many headphones from $50 to $600. Just to name a few - AKG K702, K701, K271, K171, Koss PRO4AAT, MV-1, Beyerdynamics DT-770, ..... Nevertheless I like these most. Why? Because they're good for everything. Not excellent in every area, but well balanced. For instance K702 has crisper, little more detailed sound and wider sound stage, but zero isolation, making it unusable even in quiet outdoors or during recording. Same with K701. The K271 sound is concentrated on mids, they may be a little more detailed, however the sound stage is much more narrow (price for better isolation). Koss PRO4AAT are very flat, however very uncomfortable to wear for longer periods. DT-770 as well as some other BD are not very good in trebles, the sound is somewhat laser-shaped. These K240 are: - semi-opened - at least some isolation and some sound stage - very comfortable - unlike the AATs - easy to drive - 55Ohm! - performs well even in outdoor use (sometimes even better than closed headphones, because the isolation is not that strong - less bass gain from outside) - not cheap, but well-priced :-) - durable - they withstand almost anything (even rain) - more quiet when recording than K70x . While there may be some leakage to microphone, these headphones proved themselves excellent when recording wind instruments - comes with two cords and two cushions, excellent
Sound
Simply excellent. Wide soundstage, not that much as K702, but great. Trebles are little higher, but nothing disturbing. Bass is fine, even in subsonic level and middles are well-blended between these.
Features
5m coiled/3m straight cable and changeable cushion is excellent thing. Most of the time I use 5m cable with soft cushion.
Ease of Use
Once you put them on your head and hit the play (or rec) button, you can enjoy nothing but natural sound. So yes, just put them on and press play.
Quality
They are durable even if they don't look like durable. The construction is pretty sturdy and well-made. And most importantly - Made in Austria
Value
Yes definitely! It's worth every cent you've put into this. I'd say don't waste money on K702 or any other headphones, but that's just my opinion.
Manufacturer Support
no need
The Wow Factor
WOW! Simply great!
Musical Background:
making music since 2007, owning home studio and play keyboard, guitar, duduk, shvi, recorder, djembe
19 of 19 people (100%) people found this review helpful. Did you?
Thanks for your opinion!
---
Submitted December 29, 2009 by a customer from ymail.com
"Accurate, comfortable, cost effective.&quot
Verified Customer
zZounds has verified that this reviewer made a purchase from us.
As I stated before, I have owned several the 240 series for many years, they continue to provide outstanding service. My newer 240's promise to to do the same. Note that my new models sound a bit cooler than the older ones, I would expect a break in period to resolve this very minor issue. Other brands seem to demand an adjustment period when I first put them on. With the AKG's I feel immediately comfortable, and can relax with confidence regarding the electro/convective signal path to my ears.
Sound
These phones have a very accurate response; I cannot detect LF bumps or HF peaks. Great for pleasure or critical listening. I love these for what I do.
Features
The semi-open design can enhance listening experience, but can be problematic when in use as monitors in loud sessions where performers are working near sensitive mic's. I can recommend the AKG 240S for those applications.
Ease of Use
They are simply plug and play. These are comparatively light in weight.
Quality
While not luxerious, they are elegant and similar in qulaity to my older versions that have lasted for more than 15 years in my studio.
Value
If desire accuracy, these are a great choice in or above this price range.
Manufacturer Support
I have not had to use AKG support. That is great.
The Wow Factor
I own many sets of headphones both less and more expensive than these. The 240 is my "go to" choice for 95% of my uses.
Musical Background:
Active Musician, recording "engineer"
14 of 14 people (100%) people found this review helpful. Did you?
Thanks for your opinion!
---
Submitted May 16, 2012 by Larry S in Bonita, CA
"AKG K240MKII Semi-Open Headphone&quot
Verified Customer
zZounds has verified that this reviewer made a purchase from us.
Listening to AKG K240MKII, I notice less gain in the sound level compared to my AKG K77 Close-Back Headphone which cost much less. If you are expecting increase db gain on a Semi-Open Headphone this is not the best choice. Perhaps a Close-Back would be a better choice.
Musical Background:
Professional Keyboardist for 23 years
Musical Style:
Jazz and Blues
2 of 7 people (29%) people found this review helpful. Did you?
Thanks for your opinion!