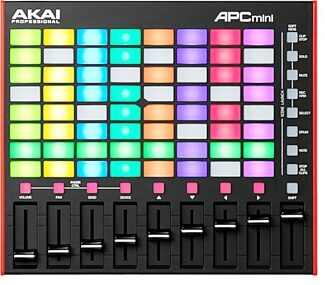 Get control of Ableton Live with the APC Mini MK2, a controller with 64 RGB pads, 9 assignable faders, and deep Ableton integration for a smooth workflow.
Overall User Ratings
(based on 1 ratings)
Submitted June 2, 2023 by ALLAN B in Tempe, AZ
"Great desktop companion for Ableton!&quot
Verified Customer
zZounds has verified that this reviewer made a purchase from us.
I love MIDI gadgets! I've been looking for a desktop gizmo to launch and record Ableton clips but without all the extra features. The Push 2 was amazing, but just too much for me, and the Launchpad was great, but I wanted something a little more straightforward and compact to set on my little studio desk next to my Aurtura Minilab so I could leave the Launchkey in the other room. I'd seen a few reviews of the older APC mini and wasn't too keen on it but the MK2 seemed to rectify most of their issues. I figured I'd take a chance since it's so affordable. I'm really happy with it so far. I'm still relatively new to Ableton and I'm old, so I like to use the PC for most tasks. Having the APC on the desk lets me grab my guitar and quickly launch clips and scenes and start recording when I'm ready. I can't really find anything to complain about for a $90 box. This thing can do quite a bit.
Sound
N/A - It's a MIDI controller
Features
I love that the grid matches the PC colors. It makes it easy to keep track of where I'm at. The faders are a nice touch but I don't really use them much for what I do. The only real downside I can see is if you want to use it for finger drumming the pads are pretty small and a little spongy, but I use the pads on my keyboard for what little finger drumming I do. For working with clips they are just fine.
Ease of Use
It is very easy to get up and running. Plug it in and Ableton immediately recognizes it. No drivers or software required.
Quality
I was surprised and the weight. I was expecting a cheap flimsy piece of plastic. This feels solid. The pads feel decent but again a little spongy. The faders are just OK and the other buttons seem just fine. If you put it in a little zip case I think it would survive being tossed around for gigs and shows fairly well, but it's much better suited for home or mobile studio work.
Value
It's a pretty full featured device for less than $100. There's not much else in that price range that has these physical features. I'm impressed.
Manufacturer Support
I've not dealt with Akai
The Wow Factor
Not much to really go wild about except that it's got a lot of power in an affordable little box that will fit inside a backpack pocket. Plus it looks cool :)
Musical Background:
Been playing for almost 50 years and still kicking around in local bands
Musical Style:
Rock, classic rock, prog, ccm, Electronic
Did you find this review helpful?
Thanks for your opinion!