Customer Kudos
"zZounds has the best prices and payment plans, their staff is always friendly, helpful and professional and always wanting to make sure you are happy with their products."
November 28, 2023

zZounds Live: Gamechanger Audio Pedals

Gamechanger Audio
started in 2015, crafting piano-style sustain pedals for any melodic instrument. Their unique design style broke the mold -- and caught the eye of artists like Jack White, John Scofield, and Avi Bortnick. Since then, Gamechanger Audio has built a reputation on pushing against the norm, crafting high-quality pedals and even synthesizers inspired by music's past, that will press on into the future.
Watch Justin craft unique tones with featured Gamechanger Audio pedals, and see just how they're changing the game.
See all Gamechanger Audio »
Gamechanger Audio Light Pedal Optical Spring Reverb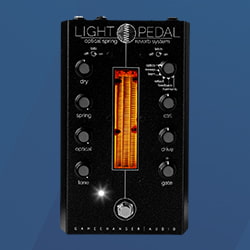 Straight out of a science fiction novel, the Gamechanger Audio Light Pedal harnesses the power of true spring reverb using infrared optical sensors. This system is used to harvest the full timbral and harmonic range of the spring reverb tank. The Light Pedal pushes the boundaries of reverb and allow for precise balancing of wet and dry signals.

Sound: Classic spring tank tones to colorful optical spring reverb tones with modulation and added harmonics.
6 Effects: optics (frequency and texture calibration), sweep (modulation), tremolo, reflect (delay), feedback and harmonic (added harmonics and octave tracking). Multiple effect stacking options.
Drive: For adjusting the signal level sent to the reverb tank, thus affecting the reverb tank's behavior.
Tone: Ranges from rumbling lows to piercing highs.
Envelope: Simple one-knob envelope control produces either gated or ducking reverb.
Buffered: High-quality buffered bypass.
Gamechanger Audio Plasma Distortion Pedal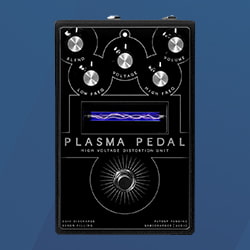 Unlike any overdrive or distortion pedal you've ever heard, Gamechanger Audio's Plasma pedal is powered by a xenon-filled tube, which creates a unique sound. A revolutionary approach to overdrive and distortion, the Plasma uses xenon gas instead of LED circuits, transistors, or vacuum tubes.

Sound: Harmonic artifacts, created as a byproduct of the high-voltage discharge, are uncommon in traditional signal amplification, resulting in distortion unlike anything you've heard before.
Blend: Sets the balance of the dry and wet signal mix, so you can add the Plasma distortion on top of the clean signal or even already dirty tone.
Wide EQ Band: The Plasma Pedal produces a very wide frequency spectrum with massive low end and sharp and screeching high end.
Natural Noise Gate: As soon as you stop playing the electrical discharge within the gas-filled tube is interrupted, and the pedal will not produce any output signal at all.
Gamechanger Audio Bigsby Pedal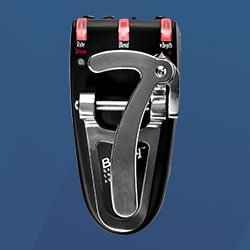 The Gamechanger Audio Bigsby Pedal is a revolutionary polyphonic pitch shifter pedal that is able to reproduce the string bending and vibrato effects produced by the Bigsby tremolo arm and other traditional tremolo systems.

Sound: The Bigsby Pedal combines the tremolo arm pitch-bend emulation with a unique set of features and modes that can take this pedal much further than a simple pitch bend.
LFO Mode: An LFO enabled mode that controls the pitch while the foot-pedal controls the depth.
Blend: Allows for dynamic chorus and harmonizer sounds.
Expression Output: Can be used either in parallel with or independently from the pitch-shifting algorithm.
MIDI CC and PC: Full MIDI CC and PC control over all parameters, preset recalling, and clock syncing (connected with a 3.5mm type B connector).
Latch Mode: When latched, the Bigsby will hold a constant interval determined by the current position of the Depth knob -- this way, you don't have to hold down the Bigsby Pedal for long phrases.