Customer Kudos
"Customer support at zZounds was great. They were very helpful when I placed my order and shipped it the same day. Within 2 days my order was at my door and the packaging was top-notch."
July 22, 2023

zZounds Live: Arturia KeyLab + Analog Lab

Arturia KeyLab Essential keyboards are versatile, high-quality MIDI controllers that spark creativity and simplify music-making. Featuring velocity-sensitive keys, a clickable encoder, 9 rotary knobs, 9 faders, 13 switches, 6 transport switches, 4 command switches, 1 modulation wheel, 1 pitch bend wheel, and 8 touch-sensitive pads, KeyLab Essential covers all musical needs without miring you down in menu dives. With Arturia's included Analog Lab V software, you get an abundance of sonic possibilities in a curated library of 2000 presets and patches, encompassing a wide range of musical styles and unique sounds.
Watch Justin coax some magic out of this perfect pairing in our exclusive live demo.
Arturia KeyLab Essential Keyboard Controllers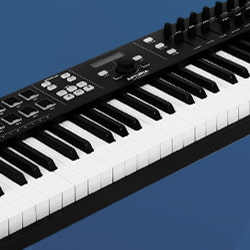 Let the magic flow with KeyLab Essential! With responsive keys, rotary knobs, faders, and performance pads, you'll rock every tune -- inside/out. Plus, it comes with fantastic audio software to kickstart all sorts of awesome beats. Feel the inspiration in your hands, with semi-weighted keys and backlit pads giving you the freedom to express your musical ideas. Craft your sound effortlessly with cleverly assigned encoders and faders.

KeyLab Essential is your studio's best friend, making everyday tasks a breeze and integrating seamlessly with Analog Lab and other third-party software. This MIDI controller comes with an astounding collection of over 6,500 sounds, including the acclaimed V-Collection with Analog Lab, Ableton Live Lite, and a recreated Steinway Model D grand piano. Let your musical journey begin with KeyLab Essential -- rock, roll, and create sensational tunes like never before!

Features:
- Keyboard: velocity-sensitive keys
- Controllers: clickable encoder, 9 rotary knobs, 9 30mm faders, 13 switches control, 6 transport switches, 4 command switches, 1 modulation wheel, 1 pitch bend wheel, 8 touch and pressure-sensitive pads
- Connectivity: MIDI out, USB, Sustain pedal functions as a universal MIDI controller
- Twin-line LCD screen
- Perfect Analog Lab integration: Select sounds, browse presets, switch parts, smart-assigned controls.
- Full Mackie / HUI control compatibility
- Chord Play mode
Arturia Analog Lab V Software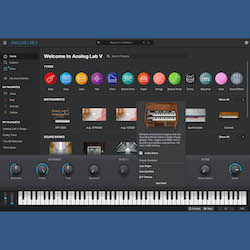 Arturia's Analog Lab V is a powerful and versatile software instrument that offers a vast library of 2000 meticulously curated presets and patches covering a wide range of musical styles. Crafted by renowned sound designers with decades of experience, the collection ensures top-notch sound quality. The software is designed to be user-friendly, allowing musicians to access inspiring sounds effortlessly.

Whether you're a seasoned musician or a beginner, Analog Lab V provides a seamless and enjoyable music-making experience. The software integrates perfectly with Arturia's MIDI controllers, offering hands-on control and quick access to sounds. With Analog Lab V, musicians can explore an impressive array of sounds, from classic analog synths to modern digital instruments, making it an ideal tool for all kinds of music production and performance projects.