Customer Kudos
"zZounds will put a reliable product in your hands with no questions. The 0% interest and no late fee payment plan is nothing short of a miracle for musicians on a budget."
January 20, 2022

Universal Audio Apollo Solo Interfaces
Your Gateway to Unison + LUNA
Universal Audio's Apollo line of audio interfaces is held in high regard by home producers and professional studio engineers alike. Praised for their pristine analog-to-digital conversion, polished design aesthetic, and access to UA's unmatched suite of exclusive Unison preamp models, effects plug-ins, and virtual instruments, Apollo interfaces take any project to another level.

The Apollo Solo series brings all of Universal Audio's renowned functionality and power to their most streamlined hardware yet. Compact, easy to setup, and designed to get the most out of your real and virtual instruments, the Apollo Solo Thunderbolt 3 and Apollo Solo USB interfaces are here to transform the home recording process for Mac and PC users.
Choose Thunderbolt 3 or USB »
Two In, Four Out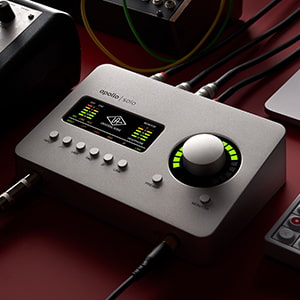 The Apollo Solo features two XLR-1/4" combi jacks with onboard Unison preamps. These pres grant you access to Unison models of some of the finest analog preamps of all time from the likes of Neve, Pultec, SSL, and more! Plug a guitar or bass into the front 1/4" Hi-Z input and experience the sound of a classic Marshall Plexi, Ampeg SVT, and more amazing gear in seconds.

Monitor through the Apollo Solo's 1/4" headphone jack, or use its stereo 1/4" monitor outputs to connect to your favorite pair of studio monitors. Whether you're a Mac or Windows user, there's an Apollo Solo ready to be the heart of your home studio!

Unison: Where Hardware Meets Software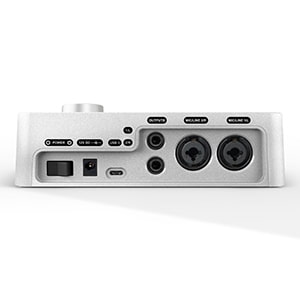 Unison technology is all about bringing the tangible and digital together. Plug into your Apollo Solo interface, select one of the Unison models in your DAW, and experience the sound and feel of a vintage Neve console, a classic Marshall tube amp, or any one of several amazing digital recreations of vintage gear.

Unison goes above and beyond most digital gear emulations, because of its unique hardware element. When you choose a Unison model of a vintage preamp, the technology literally changes the input impedance, gain staging, and other nuanced characteristics. Then, during tracking, it processes in the rest of the vintage circuitry. It all adds up to an incredible digital recording experience unlike anything else.

Understanding Unison
Powered by LUNA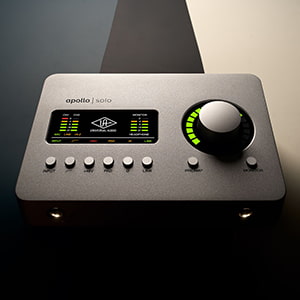 Apollo Solo interfaces are Universal Audio's first release since launching LUNA. Unveiled at NAMM 2020, LUNA is a recording system designed for Mac that's completely free to owners of Universal Audio Apollo Thunderbolt audio interfaces!

LUNA brings together your tracking and mixing worfklows into a single-window experience. Play through amazing UA plug-ins with near-zero latency thanks to LUNA's Advanced Realtime Modeling. You'll also receive access to exclusive LUNA instruments like the Ravel grand piano and Moog Minimoog, and extensions like Neve Summing and Studer Analog Tape. The Apollo Solo Thunderbolt interface is your most affordable entry point into the LUNA ecosystem!