Customer Kudos
"zZounds is the best -- always great products at great prices and the best financing around. I love zZounds so much I'd get the logo tattooed if they paid for it."
October 28, 2022

Tascam Model 24
Mixer + Multitrack Recorder + USB Interface
The Tascam Model 24 is best described as a mixer, but that's just one facet of what this powerful tool can do. With 24 channels providing intuitive control of your tracks, an integrated 24-in/24-out USB audio interface, and the brains and capabilities of the famed Tascam Portastudio digital recorder onboard, the Model 24 is a true all-in-one stage and studio mixing solution.

Read on to learn more about what the Tascam Model 24 can do, and find out if it's right for your mixing needs!
Learn more »
Classically Inspired...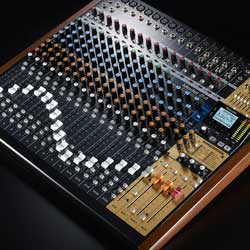 If the Model 24 invokes a classic stage mixer upon first glance, that's intentional. Upon closer look, and after just a few seconds of use, the Model 24 reveals itself to be masterfully designed, taking the best facets of older analog mixers and enhancing them with modern versatility.

Unlike many modern mixers, the Model 24 puts everything at your fingertips: each of its 24 channels' EQ, level, mute, record and gain controls are laid out with their own knobs -- no menu-diving here! Mixing with the buttery-smooth 100mm faders is a joy, and something that touchscreens simply can't emulate.
...Equipped for Modern Music
Unless you're strictly analog, you're going to need the Model 24 to live up to modern standards, and it certainly does. Features like Bluetooth, RCA or 1/8" connectivity on channel 24 make it easy to stream audio from your smartphone or other aux source. The Model 24's on-board digital effects are easy to use, and add depth to demos or live sets. Of course, you can mix and record right on the console, but the Model 24 also acts as a robust 24-in, 24-out USB audio interface, giving you an excellent entryway into your favorite DAW.

Another modern feature is the Model 24's LCD screen, giving you at-a-glance reference for the tracks you are currently recording, along with a multi-jog wheel and button for quick navigation through the menu. It's an effective, but not overbearing, visual tool.
Portastudio Powered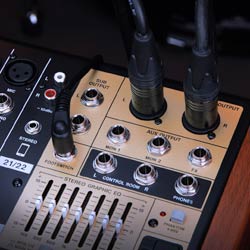 Tascam is best known for their standalone digital multitrack recorders, and that expertise is seamlessly weaved into the Model 24. Driven by a Portastudio engine, the Model 24 provides a recording platform that will instantly feel second-nature to pros and quickly become comfortable to novices. With just a single button, you can record your set directly to SD card with up to 24 individual tracks. From there, adding in overdubs and mixing right on the console is easy and intuitive, or you can also send your tracks out to the DAW of your choice.
Recommended Accessories:
Monitor at home or in the venue with a pair of
Tascam headphones.
Or go for a set of quality
studio monitor speakers
for full-range sound and detail. If you're using your Model 24 to run sound in a bigger venue, you'll want to add a
stage snake
for a tidy cable route.