Customer Kudos
"zZounds has been great through the years. Easy returns, pay as you play. Order on line. Best shipping times. Just my favorite place to do business."
February 24, 2023

Take on the digital heart behind the New Wave
Glossy, wooden, crystalline, and metallic -- these descriptive terms are all badges of honor for FM synthesizers. From their introduction in the early '80s via Yamaha's wildly successful DX7 keyboard, and FM's unreal realization via the work of Dr. John Chowning, nothing's sounded quite like a digital FM synthesizer, before or since.
In this episode of our Legends Series, we go to the silicon-based source powering many of the hits from the '80s. Remember the bass lines to countless electro-pop hits by Thomas Dolby, Madonna, and A-Ha? All FM synths. Who hasn't swooned to pop ballads played on the DX7's "E.PIANO 1" preset patch by Whitney Houston, Chicago, and Elton John? Others like Brian Eno deciphered its byzantine menus to come up with otherworldly tones for us to vibe to.
Countless electro-pop hits can't be wrong -- we want our FM synth!
For those who want an even deeper look into the story, science, and music behind FM synthesis,
check out "The Beginnings of FM Synthesis" on the zZounds Blog!
Hear how we recreated the sounds of legendary digital FM synthesizers in our Synth Sounds of the '80s video:

Explore more legendary sounds in zZounds' Legends Series »
Elektron Digitone Desktop FM Synthesizer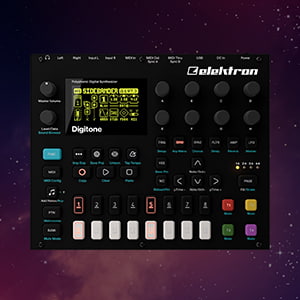 Elektron's Digitone FM synthesizer embraces everything that made the original FM synth such a hit -- and infuses it with Elektron's own unique workflow that makes building tones and songs far more intuitive. It's the star of our video, using 4 operators to recreate earworms from the '80s.

From the classic [BASS 1] bass patch that A-Ha put to bold use, to the infamous [HARMONICA 1] solo on "What's Love Got to Do with It," all of these sounds are possible to recreate yourself (or import via sysex) within the Digitone FM. Just make sure to add a touch of gated reverb for the full effect!
Yamaha MODX FM Keyboard Synthesizer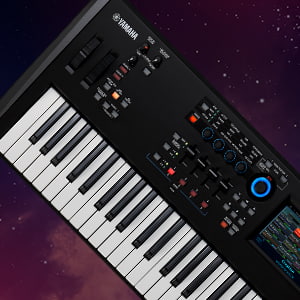 We can't talk about FM synthesis without mentioning Yamaha's MODX synthesizer. The MODX6, MODX7, and MODX8 take technology that was once on the cutting edge, and add an even finer edge. First, Yamaha beefed up the sonic possibilities with an 8-operator-based FM engine versus 6 on the original DX7. Then, they added a whopping 88 algorithms and 128-note polyphony. Finally, all MODX synths combine all these hefty FM updates with the sample-based sound engine found on their flagship Montage workstations and the lively expression of Motion Sequences. Not to mention the MODX's built-in touchscreen -- which we wager many of you DX-die-hards have to think is an upgrade from the original DX7's small LCD display.

While decades ago, many suffered through the archaic menu systems of first-generation FM synths, Yamaha has righted a few wrongs and made FM extra fun again!
Arturia MicroFreak Hybrid Synthesizer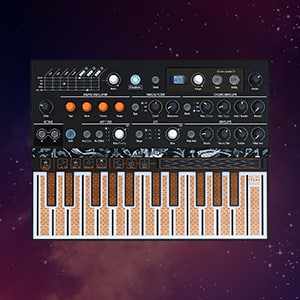 No other synth out there might take you quite as close to Dr. John Chowning's original discovery than Arturia's MicroFreak. A freak of sonic nature, Arturia's MicroFreak can take on the role of various types of digital and analog synthesizers, giving you instant access to engines based on subtractive, additive, and vocal formant synthesis. Would you believe one of those types is FM?

Giving you access to a 2-operator FM synthesizer, just like Dr. Chowning, you too can teach yourself the ins and outs of frequency modulation and discover myriad sounds possible with such a seemingly simple algorithm.
Korg volca FM Desktop Synthesizer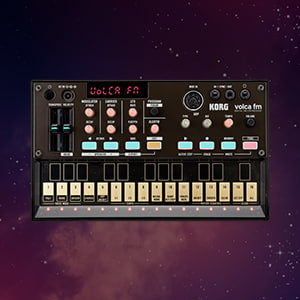 Remember how in the '80s, cassettes shrunk the size of LPs until you could stuff whole albums inside your Walkman? So does Korg -- as their volca FM synthesizer shrinks all the powerful technology found on classic '80s FM synthesizers into a 3-voice tabletop model.

It's all here: 6 operators and 32 algorithms, all just like the original. What's different is that Korg tricked out this pony with their own 16-step sequencer, pattern chain, and motion sequencing controls. Heck, they even managed to stuff in a built-in chorus effect -- a must for those playing an FM-based electric piano. In the end, it's another great way to dive into FM synthesis (or at least download and use all sorts of stored patches via sysex).