Customer Kudos
"zZounds has been great through the years. Easy returns, pay as you play. Order on line. Best shipping times. Just my favorite place to do business."
February 24, 2023

Shure MOTIV: Recording on the Go
Microphones and interfaces for mobile recording
If you've been using your phone's built-in voice memo app to capture musical ideas -- it's time for an upgrade! Shure's first iOS microphones have arrived. The MOTIV series delivers Shure-quality microphones for mobile recording -- on the devices you already take everywhere you go. Whether you need a Lightning or USB mic for your mobile device, a USB microphone for your Mac or PC, a portable audio interface, or even a TRRS lavalier mic for your iOS or Android device, the Shure MOTIV series has you covered with the MV88, MV88+ Video Kit, MV51, MV5, MVi and MVL.
All the audio you hear in this video -- from the jazz trio to the voiceover -- was recorded with the Shure MOTIV MV88, MV51, and MVi:

Shure MOTIV MV88 digital stereo condenser microphone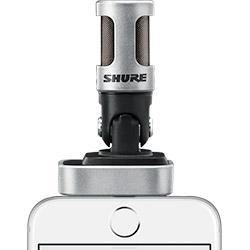 The Shure MOTIV MV88 is a stereo condenser mic that plugs directly into your iPhone, iPod, or iPad via the Lightning connector, and swivels up to 90 degrees to point toward the source you want to record -- from live concerts, to interviews, to yourself narrating a video. This mic goes everywhere your iPhone goes!

Download the free ShurePlus MOTIV mobile app, and select DSP presets for speech, singing, flat, instruments, or loud sources. The app automatically adjusts your MV88 settings -- or you can manually control gain, EQ, pickup pattern, and more.

With the MV88, you can record a live show in raw middle/side stereo mode, and adjust the stereo width later. You can even record a video on your iPhone, and the MV88 will pick up stereo audio with much better quality than the built-in mic.

Shure MOTIV MV88+ Video Kit digital stereo condenser microphone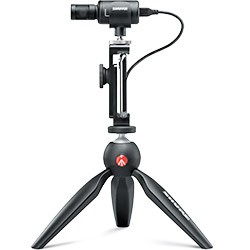 Record great video and audio on your smartphone with Shure's MOTIV MV88+ Video Kit. The kit includes the "Plus" version of the MOTIV MV88 microphone, with both USB-C and Lightning cables for connecting to your device. Shure's MV88+ Video Kit also includes a mini tripod stand, phone clamp, shoe-mount mic clip, and a neoprene roll-up bag to keep all your accessories in one place.

With the free ShurePlus MOTIV mobile app, you can adjust DSP presets, mic gain, and stereo width -- and save and share your content in multiple formats, including high-quality 48 kHz/24-bit audio and 4K video.

How is the MV88+ Video Kit different from the original MV88 microphone?
- Connects to both USB and iOS Lightning ports
- 1/8" headphone output built into the microphone
- Includes mini tripod, phone clamp, shoe-mount mic clip, and bag

Shure MV51 MOTIV digital large-diaphragm condenser microphone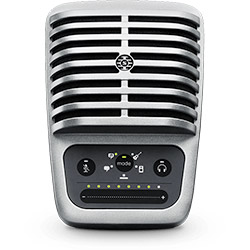 The MOTIV MV51 is a large-diaphragm condenser microphone for your Mac, PC, or iOS device that combines a vintage-style exterior with a high-tech touch interface.

Thread your MV51 onto any standard microphone stand -- or use the built-in kickstand on your desk. Then, connect the MV51 to your computer or mobile device via the included cables, and the MV51's front touch panel will light up. Control gain, headphone volume, and mute right on the microphone -- along with DSP modes for speech, singing, flat, acoustic instruments, or loud sources.

Plug into the 1/8" headphone jack on the back to monitor the output from the mic, blended with the output from your recording software. Try the MV51 on vocals, acoustic guitar, guitar amps -- the 1" condenser capsule captures every detail.

Shure MOTIV MV5 digital condenser microphone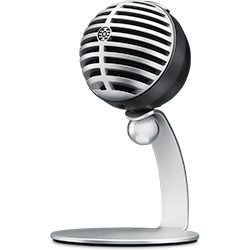 The Shure MV5 condenser microphone captures nearly any source -- podcasts, video chats, voiceovers, singing, acoustic instruments, or bands and louder sources up to 130 dB SPL. Choose a setting directly on the microphone -- Voice, Instrument, or Flat -- to tailor the the MV5's EQ and compression settings.

The MV5 comes with USB and Lightning cables to connect the mic to your Mac, PC, or iOS device, and includes a detachable desktop stand to help place your mic.

A 1/8" headphone jack monitors the MV5's output blended equally with the playback from your computer's recording software, and the thumbwheel lets you adjust headphone volume directly from the mic.

Shure MOTIV MVi digital audio interface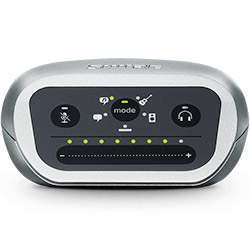 Already have an XLR microphone you like? Want to record your guitar direct? Plug into the Shure MOTIV MVi, a single-channel 44.1 or 48 kHz/24-bit audio interface that comes with digital cables to connect to your computer or devices. Although it's extremely compact, the MVi is sturdy and weighty, with a rubber base that keeps it in place on your desk.

The MVi gives you a Class-A XLR mic preamp with phantom power, and a quarter-inch input for your direct guitar, bass, or mono keyboard output. There's a headphone output for real-time monitoring, and a touch panel so you can control mic gain, headphone level, mute, and DSP mode -- speech, singing, flat, acoustic instruments, or loud sources. The DSP is built right into the MVi -- there's no need to install a software mixer on your computer; this interface works with your existing DAW.

Shure MOTIV MVL omnidirectional condenser lavalier microphone
Clip on this lapel microphone, and record speech directly to your smartphone. The MVL omnidirectional lavalier microphone has a TRRS 1/8" connector that plugs into the headphone jack of just about any mobile phone or tablet -- iOS or Android -- and comes with a windscreen, clip, and carrying pouch.

The Shure MOTIV MVL is the perfect low-profile lav microphone for recording interviews, speeches, presentations -- any close-mic speech application. If you want to record on-camera interviews, but you don't have the budget for a lav wireless mic system, the MVL is your best friend.

ShurePlus MOTIV Mobile Recording App for iOS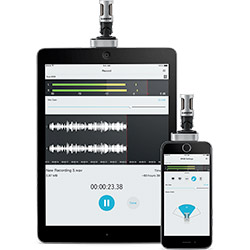 The ShurePlus MOTIV mobile app lets you adjust gain and monitor your recordings with high-resolution metering on any MOTIV mic or the MVi interface.

For the MOTIV MV88 stereo mic, the app gives you even more functionality -- with full control over EQ, pickup patterns, wind noise reduction, and more. Pick a preset for speech, singing, flat, acoustic instruments, or loud environments, and the ShurePlus MOTIV app automatically adjusts your settings for the MV88 microphone.

Download the ShurePlus MOTIV iOS app free from the App Store.