Customer Kudos
"zZounds is a very professional company. Also I love their payment plans with no interest no credit check it's a wonderful place to shop at. I'm a loyal customer for life."
November 20, 2022

Saramonic Roadieographer Content Creation Kits
Find the Kit for Your Video Needs
Whether you're looking to start a YouTube channel, capture pro-quality footage of your live performances, or just make fun videos at home, Saramonic has all you need in their Roadieographer content creation kits.

Each kit centers around Saramonic's Vmic Mini -- a compact cardioid condenser microphone that can be mounted and connected to a DSLR/mirrorless/video camera, smartphone, tablet, or any device with a TRS or TRRS jack to greatly improve the audio quality of your videos and projects. Each kit offers unique accessories to help you get the most of your recordings.

Check out our Spotlight rundown below to find the Roadieographer kit that's best suited for you and your project!
Shop Saramonic »
Roadieographer Kit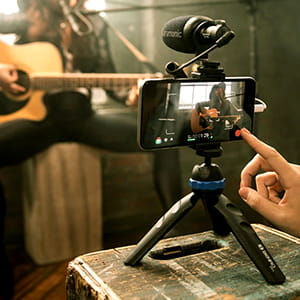 The standard Roadieographer kit is the most affordable of the bunch, yet it contains plenty of gear for most video needs. In this kit, you'll find the Vmic Mini along with a SR-BSP1C mobile device mount, a PocketPod tabletop tripod, and TRS and TRRS cables. Everything in this kit, plus your DSLR camera and laptop or tablet, fits inside the included Benro Tourist 200 backpack!

We'd recommend the Saramonic Roadieographer kit for solo artists looking to make performance videos at home, or for vloggers who want to film themselves for YouTube, Twitch, or other streaming sites.
Roadieographer Pro Kit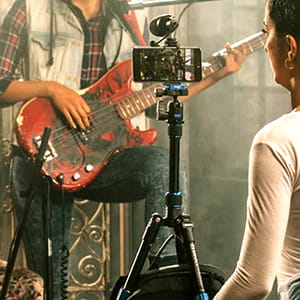 Stepping up to the Roadieographer Pro Kit allows you to take on more complex video projects, granting you more cinematic freedom than ever. The Roadieographer Pro kit contains the same Vmic Mini, mobile device mount, and cables as the standard kit, but swaps the PocketPod for the Benro SlimTravel tripod. This larger, more capable tripod supports a smartphone or camera, and allows you a greater range of vantage points. Its bubble level and twist locks on each leg make it quick and easy to set up an excellent shot wherever you are.

The Roadieographer Pro Kit is a great choice for those who need a more professional tripod to set up shots. This kit would be an excellent choice for behind-the-scenes videos and band interviews.
Roadieographer Ultimate Kit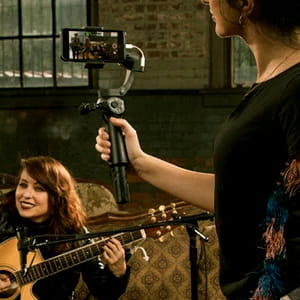 Produce a superb quality video or series with the Roadieographer Ultimate Kit -- just add your camera or smartphone! This top-tier bundle includes everything from the Roadieographer Pro kit, with a few additional key pieces to take your production over the top. The included Benro 3XS Lite gimbal lets you stabilize your smartphone when moving, as well as instantly shift it from horizontal to vertical orientation, or vice versa. Another powerful addition is the Saramonic SmartMic TRRS plug-in microphone -- this tiny mic plugs directly into a TRRS jack and even is compatible with the 3XS Lite gimbal, giving you a second source from which you can capture audio.

The Roadieographer Ultimate kit is capable of handling just about any video job you or your band could think of, from capturing live gigs to behind-the-scenes, to a complete music video!