Customer Kudos
"zZounds is a great retailer with quick, responsive customer service and shipping, and the payment plans help tremendously."
September 10, 2023
PreSonus Eris Studio Monitors
In Three Series to Suit Your Studio's Needs
PreSonus' best-selling Eris family of powered studio monitor speakers truly has something to offer every musician and creator. The Eris family offers three unique series to choose from: the desktop-sized and multimedia-friendly Eris 2nd Gen series, the affordable workhorse Eris Studio series, and the cutting-edge, excel-at-any-job Eris Pro series. There are even two subwoofer options to help enhance the low-end response of your Eris system!

So what improvements have been made, and which Eris studio monitors are right for you? Learn about each in our Spotlight guide, and bring your studio or entertainment room to the next level with Eris!
Shop All Eris Family »
Eris 2nd Gen: The essential media reference monitors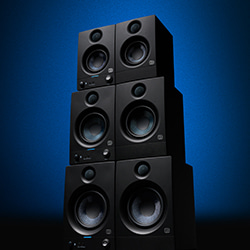 Whether you're recording or producing your first album or podcast, or you just want speakers for your home office that sound way better than the ones on your laptop, PreSonus Eris 2nd Gen media reference monitors will exceed your expectations! Sold as pairs, with a convenient front-panel power switch, volume control, aux port, and headphone port, these compact desktop monitors deliver impressive bang for your buck.

Adapted and improved from their best-selling predecessors, entry-level Eris studio monitors fit into any studio space and are available with a 3.5", 4.5", or 5.25" woven composite woofer, paired with a 1" silk dome tweeter. Versatile connection options include stereo 1/4" inputs, stereo RCA, and 1/8" aux input, plus the "BT" models offer Bluetooth connectivity, making Eris 2nd Gen monitors an excellent choice for streaming music from mobile devices, watching movies, and gaming, in addition to content creation!
Eris Studio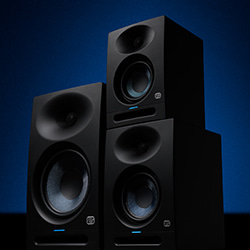 Ready to make your home studio a bit more pro? Bridge the gap with Eris Studio series monitors! Perfectly positioned for working producers and hobbyists alike, these high-definition nearfield studio monitors punch well above what their size and price would have you believe.

PreSonus packed this series with surprising oomph -- the 4.5", 5.25", and 8" woofer versions range from 50 watts of Class AB power up to 140 watts, and all deliver at least up to 100dB SPL of clear sound. A ported chassis makes for surprisingly robust low end, while the EBM (Elliptical Boundary Modeled) waveguide and silk-dome tweeters help you to fine-tune everything at the top end of your mix. Wide horizontal dispersion, narrow vertical dispersion, and contour tuning controls make it easy to find your "sweet spot" in any room. With 1/4" and XLR inputs as well as RCA, Eris Studio monitors accept a wide range of sources to meet your project's needs.
Eris Pro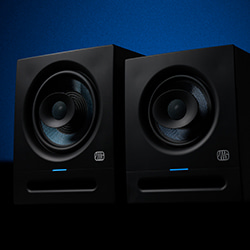 Hear the difference single-point-source studio monitors can make with the PreSonus Eris Pro series. With a coaxial design, they're built to perform in cutting-edge immersive formats like Dolby Atmos, as well as stereo mixing environments.

Crystal clarity, plenty of power, and an unbeatable soundstage are the calling cards of the Eris Pro series. The ultra-low-mass, silk dome tweeter and woven-composite woofer are perfectly aligned at their acoustic centers, providing exceptional sonic imaging and phase coherence. The result is an unmistakable and seemingly effortless natural listening experience. If you do need to fine-tune your Eris Pro monitors, the onboard acoustic tuning controls and three-way Acoustic Space control let you optimize performance no matter where you place them -- even mounted to the wall or ceiling!
Eris Subs
In applications where clarity in the deepest registers is needed, only a studio monitor subwoofer will do. Smaller sized studio monitor speakers are enhanced with the presence of a sub like the Eris Sub 8BT. Equipped with 100 watts peak power and an 8", front-firing, glass-composite woofer, it can output lows down to 30 Hz, allowing you to hear and better adjust bass instruments and rumbling synths. Connect to your audio interface and existing monitors via 1/4" or RCA cables, and set up a 2.1 monitoring system with ease. Plus, Bluetooth connectivity makes it simple to check a reference mix from a mobile device. The Eris Sub 8BT is a great match for any compact Eris monitors.

If you need to go even deeper, say for film scoring or producing for Dolby Atmos, the Eris Pro Sub 10 is the one you want. Its 10" glass-composite woofer is driven by 250 watts (peak) of Class AB power. A front-firing, bass-reflex acoustic port puts out low frequencies down to 20 Hz with fast transient response. With XLR, TRS, and RCA I/O, and handy controls like a continuously variable lowpass filter and footswitch control for instant A/B tests, it's an invaluable studio tool.