Customer Kudos
"zZounds is GREAT to work with, never a hassle."
August 24, 2023

Portable Recording Buying Guide
From microphones to recorders to headphones, this guide has all the gear you'll need to build a field kit that can take on any sonic situation. Quickly becoming standards in the modern musician's arsenal, portable recording setups let you track your demo or next show, grab sounds to sample, and capture audio for film. Made to withstand the hardship of the field, all the gear featured below is durable and compact, so you can depend on it for quality sound in any environment.

Every recorder in this guide has the ability to record in MP3 or WAV, and can plug in directly to your computer via USB. This lets you easily pull hours of audio from them within minutes.
Portable Recorders with Built-in Microphones
The best recorder is the one you can always carry with you. These portable recorders are designed to fit in your hand or backpack, so you're always just a few seconds from being able to score that once-in-a-lifetime take. All of these recorders have built-in stereo condenser microphones, so no external gear is required for you to start tracking hours of high-resolution 96 kHz/24-bit audio.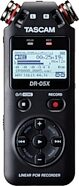 $99.00
---
No Credit Check

No Credit Check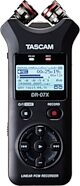 $169.00
---
No Credit Check

No Credit Check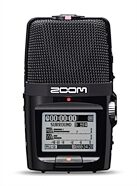 $179.99
---
No Credit Check

No Credit Check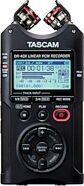 $199.00
---
No Credit Check

No Credit Check
iOS Attachable Microphones
Don't be stuck with just the audio from your phone's built-in microphone. To record in middle/side stereo or mono, choose the Shure MOTIV MV88 mic with a Lightning connector for your iOS device, or go for the MV88 Plus Video Kit for both microUSB and Lightning connectors. For tracking in X/Y stereo, the Rode iXY gives you a stereo pair of condenser microphones -- choose the original iXY for iPhones and iPads with a 30-pin connector, or the iXY-L for iOS devices with a Lightning connector.
Portable Recorders with External Inputs
Need more control of your sources than what built-in microphones can give you? These recorders feature mic/line inputs for added versatility. Pick a mic that best fits the situation, attach via XLR or 1/4-inch, and you're ready to go. With their built-in microphones or additional inputs, these recorders can record more than just a stereo pair simultaneously. This means you can pull a stereo feed off the board at a show and use your other tracks for ambience in order to give your final recording a full, realistic sound.
---
Wireless Microphones for Video Cameras
These wireless microphone systems come with battery-powered wireless receivers designed to mount directly to your video camera, making it easy to capture audio -- even if you're a one-man-band videographer. Choose a lavalier mic that clips onto your interview subject, go with a handheld microphone for your on-camera talent, or choose a Combo system that gives you a choice of either style of wireless mic.
Getting a good recording takes more than just reading the signal levels on a display. You need to clearly hear what you're recording while you're tracking so that you can quickly adjust your technique to your environment. With their flat frequency response and passive noise reduction, these headphones were designed to give you a truer understanding of what you're capturing.
Mini Recorders with Microphone Attachments
These next-generation audio recorders are pocket-sized powerhouses, and a simple solution for capturing interviews and more when you're on the go. Each tiny recorder comes with a microphone -- choose the lavalier mic that you can clip onto your interview subject, or go with the shotgun mic if you're planning on capturing audio at a distance, or mounting the mic onto your camera.