Customer Kudos
"zZounds is the best in my book. Always have great gear and great customer service. Never had one bad experience with these guys."
October 29, 2021

Line Array Buying Guide
Clear, Room-Filling Sound through Cutting-Edge Design
Do you need to get full-range audio dispersed across a medium-to-large-sized venue? A line array speaker system may be the perfect solution. Line array speakers are designed to spread sound evenly through the room, instead of blasting the front row while leaving the back of the room straining to hear. As a growing category, line array speakers represent some of the most cutting-edge designs available from modern speaker manufacturers.

How does a stadium PA system send loud, clear sound all the way to the cheap seats? It's all about long-throw speakers. Each speaker box in a line array system is designed and precisely aimed to project a focused beam of sound to just a few rows. And when sound isn't spread out as far vertically, it can travel farther. Narrow vertical dispersion, wide horizontal dispersion, and long throw -- it all adds up to consistent sound coverage, even in huge venues.

With their ear-pleasing sound dispersion and modular, stackable design, line array speakers are great for clubs, venues, houses of worship, and other rooms requiring professional-quality sound and diverse, flexible setup options. In this Line Array Buying Guide, we'll take you on a tour through our most popular line array speakers.

And, as always, if you have any questions, feel free to call us at 800-460-8089. We have Gear Experts standing by!

Why choose a line array system? Learn more on the zZounds Blog »
RCF HDL6-A Active 2-Way Line Array Speaker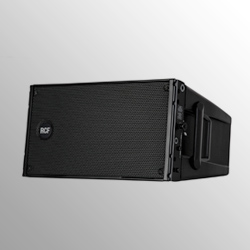 Build a powerful line array with the RCF HDL6-A. This 2-channel speaker gives you 1400 watts of Class D power pushing dual 6" woofers and a 1.7" HF driver.

Powerful DSP processing provides management of the crossover, phase correction, limiting and protection. The RCF HDL6-A features state-of-the-art transducers - two powerful 6" woofers for a solid bass reproduction plus a high powered 1.7" voice coil compression driver mounted on a precise 100* x 10* waveguide for vocal clarity and wide dynamic range.

- 1400 W, two-way amplification
- 131 dB max SPL
- 1.7" voice coil neodymium compression driver
- 2 x high power neodymium 6.0" woofers
- 48 kHz, 32 bit floating point DSP processing
- Extremely low weight
- FiRPHASE processing
RCF HDL10-A Active Compact Line Array Mod Speaker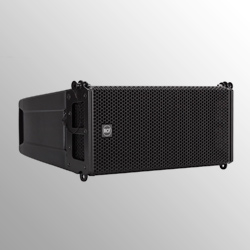 Small does not equal quiet. The RCF HDL10-A may be compact, but its smart design, advanced DSP, and powerful amplifier create a bold, venue-filling sound.

A very compact size, no compromise transducers, and a unique composite cabinet design make the HDL 10-A the perfect speaker for live sound reinforcement and permanent installations. The HDL 10-A is the ideal choice when line array performance is needed and a fast and easy set up is a must.

- 1400 Watt Peak power
- 133 dB max SPL
- 2 x 8" Woofers
- 1 x 2" Compression Driver
- DSP-controlled input section with selectable presets
- Tour-grade variable mechanics
QSC KLA181 Active Line Array Subwoofer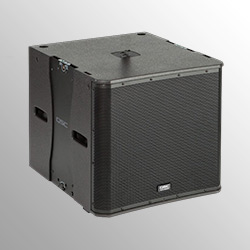 Your venue installation deserves the KLA181 powered subwoofer. With QSC's exclusive DEEP DSP technology actively manages bass transients, this line array sub delivers extended low frequency response. In addition to DEEP processing, the KLA181 includes GuardRail limiting and Auto-Standby for safe, efficient power usage. The flexible setup options of the KLA181 make it easy to mount or hang in your venue, and its impact-resistant ABS enclosure ensures years of dependable operation.

- 1000 watts continuous (RMS) power
- Built-in Class D amplifier
- Vented, powered subwoofer with 18" LF driver
- DEEP DSP algorithm brings out low end
- GuardRail peak protection technology
- Auto Standby power-saving function
- High acoustic output (135 dB SPL peak)
- Frequency range down to 33 Hz (-10 dB)
- Extensive DSP further enhances and protects performance
Mackie DRM-12A Powered Line Array Speaker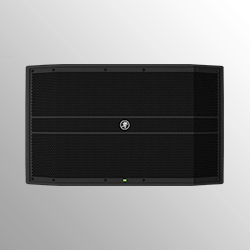 Part of Mackie's DRM powered family of speakers, the stackable, arrayable DRM-12A speaker focuses sound where you want it. Its ultra-efficient, built-in amplification, with Power Factor Correction and overload-prevention DSP, delivers a clear, powerful sound throughout the room with a 20x110-degree coverage angle, with minimal phase-cancellation issues. Plus, you can tune your PA via the DRM Control Dashboard panel on the back, for easy access to versatile DSP tools for EQ, voicing modes, and more.

- 2000 watts peak power
- High-efficiency Class-D amplifier offers ample headroom for professional applications
- Universal power supply (100-240 VAC) with Power Factor Correction technology ensures consistent performance even with unstable AC power
- Next-gen protection circuitry keeps transducers safe and ensures peak performance in all applications
- Precision crossovers and transducer time-alignment deliver reference quality sound that is consistent throughout the frequency range
- Cutting-edge FIR Filtering technology drastically reduces inherent anomalies, phase issues, and muddy midrange resulting in crystal clear sound
- High-contrast full color display for easy single-knob access to configuration, processing, and more
Mackie DRM-18S Powered Subwoofer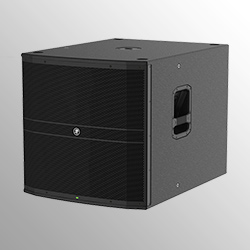 Reinforce your sound with Mackie's flagship PA sub. The stackable, flyable DRM-18S powered subwoofer supports your low end with 2000 watts of Class D power. Its built-in Power Factor Correction and overload-protection DSP ensures that you can squeeze out every available watt of performance without risking damage to the speaker or other components. Plus, the DRM18S includes a DRM Control Dashboard panel on the back, for easy access to crossover, polarity, cardioid mode, presets, and other controls.

- 2000 watts peak power
- High-efficiency Class-D amplifier offers ample headroom for professional applications
- Universal power supply (100-240 VAC) with Power Factor Correction technology ensures consistent performance even with unstable AC power
- Next-gen protection circuitry keeps transducers safe and ensures peak performance in all applications
- Dual independent input channels with Full-Range Direct and High-Pass outputs
- Advanced Impulse DSP Module: Precision acoustic correction delivers reference quality sound that is consistent even at high SPL
- User adjustable variable crossover point allows for matching to any speaker system plus a DRM specific mode tailors DRM18S for full-range DRM loudspeakers
JBL VRX932LAP 2-Way Powered Line Array Speaker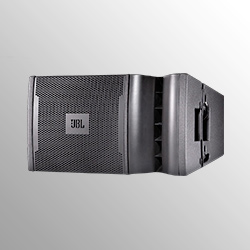 With a tight 15-degree coverage angle, JBL VRX932LAP 2-way powered line-array speakers work together to project sound exactly where you want it. Designed for use in arrays of up to 5 units, the VRX932LAP is perfect for medium-sized venues that don't require the long-throw characteristics of larger line array setups. Its manageable size and easy-to-use integral rigging hardware makes the VRX932LAP ideal for those who want a fast, easy setup and a powerfully clear line array sound.

- 1750 watts peak, 875 watts continuous (RMS) power
- Built-in JBL Drivepack DPC-2 amplifier module designed by Crown
- DSP-based resident input module provides system optimization and EQ functionality
- JBL's exclusive neodymium magnet Differential Drive(R) woofer for high-power capacity and light-weight
- Features 3 x 2408J Annular Ring Diaphragm HF drivers -- representing the latest in JBL Professional compression driver design
- Constant Curvature waveguide for unprecedented array coherence
- Integral rigging hardware for simple connection of enclosures and optional array frame
JBL VRX918SP Powered Subwoofer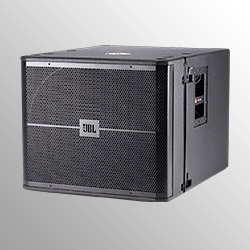 Fill the room with serious lows. Loaded with a Differential Drive 18" woofer, the 1500-watt VRX918SP powered subwoofer is the perfect match for JBL's VRX932LAP line array speaker. Its powerful, Crown-designed JBL Drivepack DPC-2 power amp and 18" voice coil provide a powerful, deep bass sound. Plus it's easy to set up, with built-in DSP for EQ, crossover management, and system optimization. Huge, room-filling low end doesn't get easier than this!

- 1500 watts peak power
- Built-in JBL Drivepack DPC-2 amplifier module designed by Crown
- DSP based resident input module provides system optimization, EQ and crossover functionality
- 18 inch, 2268FF dual voice coil, neodymium magnet Differential Drive woofer for high-power capacity and light weight
- Integral rigging hardware for simple connection of enclosures and optional array frame
- 20 mm threaded pole socket for solid, secure satellite speaker mounting
- Large port area for reduced distortion