Customer Kudos
"Can't beat the payment plans and fantastic customer service!"
January 16, 2022
Legends of Tone: Radiohead
Dial in your delays and hail to the genre-bending kings
Blending a range of influences from post-punk and krautrock to jazz and electronica, Radiohead have built a sound that ebbs and flows naturally with each release, since their first in 1992. At the core of Radiohead's sonic flood is the guitar work of Ed O'Brien and Jonny Greenwood. With rhythms and leads that weave seamlessly around each other, and effect techniques that make Strats and Telecasters sound more like analog synthesizers, Radiohead has honed a sound that's both experimental and comfortably familiar at the same time.
Check out our take on Radiohead's post-breakout sound in our Legends of Tone: Radiohead Part 2 video:



Learn more about how we recreated Radiohead's early '00s-era guitar tones on the zZounds Blog!

Hear us take on Radiohead's golden-era sound in our first Legends of Tone: Radiohead video:




Learn even more about how we recreated Radiohead's '90s-era guitar tones on the zZounds Blog!
Fender Ed O'Brien Stratocaster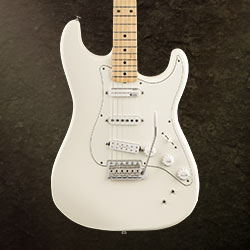 Known for his extensive use of effects to create atmospheric sounds and textures that lay the groundwork for Jonny Greenwood's more lead-oriented playing, Ed O'Brien is a key contributor to Radiohead's dense arrangements. Having modded his personal
Clapton Stratocaster
to include a Fernandes Sustainer unit, it's fitting that his 2017 Fender signature model includes a stock Sustainer, perfectly suited for Ed's synth-like, ethereal guitar work.
The Fernandes Sustainer driver in the neck position expands the guitar's traditional sonic capabilities by creating near-infinite single- or multi-string sustain. The single-coil-sized Seymour Duncan JB Jr. humbucking bridge pickup offers giant tone, while the Texas Special single-coil middle pickup adds extra spank to the traditional Fender sound.
Fender '65 Twin Reverb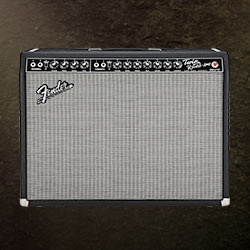 Generally one of O'Brien's amps of choice, the Fender Twin Reverb makes the perfect pedal platform. Widely regarded for it's massive clean headroom, the Twin handles stacked effects very well, making it an integral tool for Radiohead-style layering. Ed O'Brien's use of Twin Reverb amps goes all the way back to the band's debut LP, Pablo Honey, peppered in with other tried-and-true Fender combos like the Super-Sonic.

The '65 Classic Reissue Twin is a recreation of the Blackface Twin Reverb, first released in 1963. The '65 Reissue has a creamy tone that breaks up nicely, but maintains plenty of headroom courtesy of four 6L6 power tubes and six preamp tubes, offering 85 watts of power.

Fender Telecaster Plus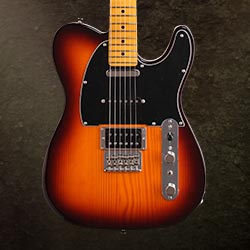 One of Jonny Greenwood's main guitars, the Fender Telecaster Plus was initially available from the late '80s until the mid-'90s, and was unique due to its use of a Lace Sensor humbucker in the bridge, and single-coil in the neck position. Greenwood gravitated toward this slightly hot-rodded Tele tone, using a Plus model on essentially every Radiohead recording and tour cycle since their debut.

The Modern Player Telecaster Plus adds a middle Stratocaster single-coil pickup to the mix, delivering the classic twangy tones that Fender players know and love, but still sports a humbucker in the bridge, creating the chunky rhythm tone that drew Greenwood to the Telecaster Plus in Radiohead's early days.

Vox AC30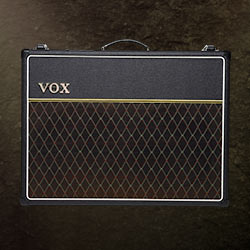 At the core of Jonny Greenwood's rig is the Vox AC30 combo amp. Sometimes paired to run stereo with a Fender Deluxe 85, among other combos, the AC30 provides just the right amount of grit, while remaining a solidly clean pedal platform. Reportedly always loaded with Celestion Alnico Blue speakers and miked with either a Shure SM57 or Audio-Technica AT3060 for live performances, the Vox AC30 is the pillar of Greenwood's side of Radiohead.

To truly channel Jonny Greenwood's tone, you'll need the Celestion Alnico Blue-loaded AC30C2X. Alnico Blues hit their gain stage a little earlier than Celestion Greenbacks -- the other speaker of choice for the Vox AC30 -- providing the quintessential breakup heard on some of Radiohead's more guitar-driven songs like 1997's "Electioneering".

Boss RE-20 Space Echo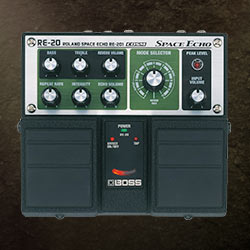 A core part of Greenwood's rig during the recording of OK Computer, the Roland RE-201 Space Echo provided the rippling, celestial guitar tones for songs like "Subterranean Homesick Alien" and "Climbing Up The Walls." While the orginal RE-201 unit is notoriously unpredictable due to its actual built-in tape delay, Jonny Greenwood still toured with the vintage model.

Thankfully, Boss reissued the Space Echo a few years back in pedal form as the RE-20. Featuring extremely accurate modeling of the RE-201's analog tone, tape flutter and magnetic head sound saturation, the RE-20 offers a more reliable and affordable solution for nailing the Radiohead delay sound.

Boss RV-500 Reverb Processor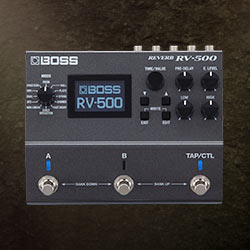 Often run in tandem with Greenwood's RE-201 or RE-20, the Boss RV-3 has provided nearly all of the reverb heard in live Radiohead performances since the mid-'90s. Originally obtained to replace the reverb on his Fender Twin after switching to Vox AC30's, the RV-3 became an accurate way for Greenwood to emulate the EMT140 plate reverb used by the band in many studio recordings. Discontinued in the early 2000s, the RV-3 was replaced by subsequent units on Jonny's pedalboards.

The most updated version in the Boss RV series, the RV-500 Reverb Processor features 12 modes with 21 reverb types, all with deep editing parameters. This makes it easy to dial in the classic RV-3 sound, as well as other favorite Boss and Roland models, and countless other combinations.

DigiTech Whammy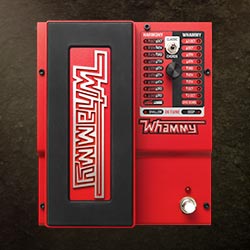 Consistently found on both Ed O'Brien and Jonny Greenwood's pedalboards, the DigiTech Whammy is most notably used on songs like "Paranoid Android" and "My Iron Lung," creating pitch-shifted harmonies and octaves with a distinct, slightly off-kilter tone. Often used in conjunction with with the Space Echo and overdrive, the Whammy created some very recognizable textures throughout Radiohead's discography.

In its current form, the DigiTech Whammy offers classic and chordal pitch shifting, ten different whammy settings, nine harmony settings and two detune settings, all with True Bypass operation and MIDI input.