Customer Kudos
"zZounds is the only place to shop for all your music needs. Where else can you play as you pay?! Unreal and amazingly wonderful! The sales staff are knowledgeable and ready to assist every time, all the time!"
February 6, 2023

Legends of Tone: Frank Zappa
You don't need "Magic Fingers" to sound like Zappa.
It's hard to find a musician or composer more prolific and eclectic than Frank Zappa. Even with a career cut short by his untimely passing in 1993, Zappa released over 60 albums, directed music videos and feature-length films, and designed countless works of visual art. As a self-taught musician, Frank Zappa pulled from a myriad of influences and techniques to create a body of work that is difficult to categorize.
At the highest level, Zappa was a proponent of experimentation, fusing together a range of inspiration from avant-garde composers to '50s blues guitarists. In this edition of
our Legends of Tone series
, we're scratching the surface of the gear used by Frank Zappa, and using some modern gear to create an all-guitar rendition of his iconic tune, "Peaches en Regalia."
Check out our take on Frank's eclectic sound in our Legends of Tone: Frank Zappa video:

Learn even more about what goes into Zappa's legendary tones on the zZounds Blog!
Gibson '61 SG Standard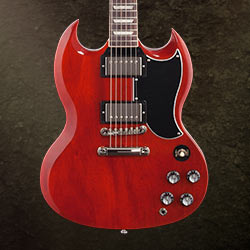 Frank Zappa made it pretty clear that no matter which guitar he played, he sounded like Frank Zappa. While he bounced from guitar to guitar, he certainly seemed to gravitate toward the Gibson SG. Zappa's original SG Special was an early '60s model with a fast, slim neck profile and a smaller pickguard, characteristic of that era.

It's tough to perfectly replicate any of Frank Zappa's guitars, as most of them were heavily modified -- but this Gibson '61 SG Standard is a worthy stand-in. With its Vintage Cherry finish and smaller pickguard, it certainly looks the part, and a slim taper neck and Burstbucker pickups help deliver classic Zappa tone and feel.

Pignose 7-100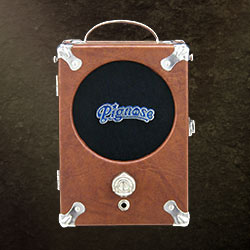 Responsible for the bulk of Frank Zappa's dirty guitar tone is the tiny, 5-watt Pignose amp. By cranking these low-wattage combo amps and pushing them with various onboard guitar boost mods, Zappa was able to coax out the iconic natural compression heard in songs like "Black Napkins."

When recreating Frank Zappa's sound, we reached for a Pignose 7-100, which can still be obtained for under $100 and can even run on six AA batteries. While Zappa's original Pignose amp was modified to have an XLR output -- most likely for running it directly into a mixing board or potentially using it as a preamp -- you can still replicate a similar sound in a live or studio setting by close-miking its single 5" speaker.

Electro-Harmonix Big Muff Pi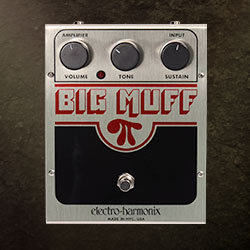 It's hard to find a piece of gear that somehow evaded Frank Zappa's heavy modification, and the Big Muff is no exception. While Frank used a pair of Big Muff Pi pedals in his primary touring rig for a number of years, they were heavily modified -- to the point that the circuit boards were completely removed from the enclosures and placed in rack drawers, wired to an external switch box located on stage.

You don't have to go through all that trouble to dial in a pretty accurate Zappa fuzz tone. The Electro-Harmonix Big Muff Pi does the trick by dishing out a generous slice of thick, harmonically rich, sustaining fuzz at a budget-friendly price.

MXR M117R Flanger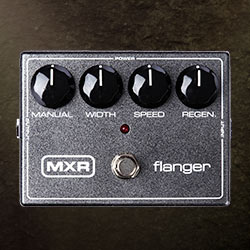 Known for using a pair of rackmount Dynaflanger units in conjunction with a pair of MXR Flangers, Frank Zappa certainly valued the use of flange throughout his music enough to have four sources of the effect in his rig at all times. The flange effects used primarily in Zappa's late '70s and early '80s material are rich in shifting harmonic overtones and were the result of using several flanger units in series.

The best place to begin with replicating Frank Zappa's flanger sound is with the readily available MXR M117R Flanger. On its own, the M117R can easily reproduce classic Frank Zappa flanger tone, but when paired with a second pedal, you can tap into some of the more envelope-based flange sounds heard on the 1981 Shut Up 'n Play Yer Guitar record.

Hagstrom Viking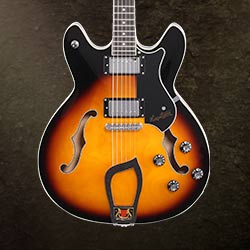 In 1967, Frank Zappa branched out from music, putting his marketing and art direction chops to work by creating an advertising agency in New York City known as "Nifty, Tough & Bitchin'." In one of their first campaigns, his new agency represented Hagstrom Guitars with a series of ads prominently featuring Zappa himself.
While he played several Hagstroms, one of the models that stuck around and was eventually passed on to
Frank's son Dweezil
-- and is now used in Dweezil's "Zappa Plays Zappa" project -- is the Hagstrom Viking. We agree with Dweezil that the Viking, with its semi-hollow construction, maple neck and HJ50 humbuckers, is a worthy vessel for navigating his father's diverse discography.