Customer Kudos
"You put instruments in the hands of musicians who might not be otherwise able to afford said instruments. That's why I always recommend zZounds. Always will."
February 26, 2023

zZounds' Legends of Tone: Brian May
Discover Queen-Inspired Tone
You don't have to be an astrophysicist to discover the unique tone that made Brian May's work with Queen so iconic. While the legendary guitarist put a career in astrophysics aside to pursue performing in Queen full-time, there's a scientific, other-worldly element to his trend-setting guitar tone. His use of Vox AC30 amplifiers and effects like the Dallas Rangemaster and multiple, competing delays gave Queen's tone a spacey, theatrical quality, while staying true to the essence of rock 'n' roll.
In this edition of Legends of Tone, we've gathered our picks for modern, accessible gear that channels May's groundbreaking sound -- and is sure to make your rockin' world go round.
Looking for tips on how to get that fat-bottomed Queen tone? Join us as we deconstruct the sound of Brian May on the
zZounds Blog!
Check out our Legends of Tone: Brian May video!

Check out more legendary artists in our Legends of Tone video series »
Catalinbread Galileo Boost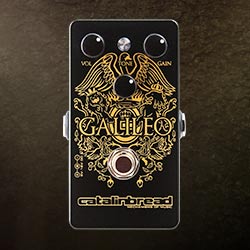 There's something special about a treble-booster hitting a Vox AC30. The midrange gets super throaty with an amazing harmonic swirl. Back the guitar volume down and that classic Vox jangle gets magnified. This is the foundation of Brian May's tone. May's use of treble boosters allowed him to push his Vox combos to the brink in order to hit their sweet spot without excessive volume.

The Galileo is a custom-tuned Rangemaster-inspired boost, combined with the preamp section of a Vox AC30, delivering the distinctive throaty mid-range and jangly crunch of Brian May. The Galileo has three controls tuned to deliver the essence of the Brian May sound: gain, tone, and volume.

Vox AC30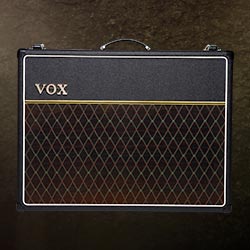 Originally pushed with a homemade booster, Brian May's primary amp choice since the late '60s has been the workhorse Vox AC30. Bordering on excessiveness, May has been known to use up to six different AC30 combos at once, each running with different effects to create the perfect blend and atmosphere. The core of Brian's tone exists within the combination of the AC30's jangly bite and the helping hand of treble boosters and time-based effects like the legendary Echoplex.

You don't need the help of six AC30's to tap into quintessential Queen tone. One should do the trick nicely, especially when paired with a range of effects.

Boss CE-2W Chorus Waza Craft Pedal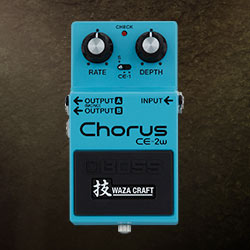 Launched in 1976, the CE-1 Chorus Ensemble was not only the world's first chorus effect pedal, but also the very first Boss pedal. Three years later, this inventive new sound was squeezed into the blue CE-2 Chorus. Legend has it, Brian May lifted the circuit from an original Chorus Ensemble, creating a custom frankenstein chorus effect of his own with the help of guitar tech Pete Cornish. Boss' CE-2W Waza Craft chorus pedal is a great stand-in for the original Chorus Ensemble, giving you the same warbled modulation utilized in classic Queen recordings.

Adding a CE-2W to your board will unlock an important component of the signature Brian May tone. If you have multiple amps at your disposal, try running stereo and splitting your chorus tone to one side for a more separated, defined sound.

Dunlop GCB95 Original Crybaby Wah Pedal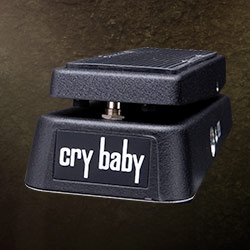 If it ain't broke, don't fix it. The Dunlop Crybaby Wah-Wah has stood the test of time and has continued to be a staple on countless boards of iconic artists -- so it's no surprise that Brian May has employed multiple different versions of the classic wah. While his go-to version throughout Queen's career was the GCB95 Original Crybaby, May also relied on the DCR-2SR rack module. With the affordability of the GCB95, players of all levels can achieve Brian's often-used cocked wah tone.

Finding the pedal's "sweet-spot" -- AKA the cocked wah tone achieved with the pedal half-way between toe and heel positions -- is key to nailing Brian May's tone. Combine that with a Rangemaster-style boost for unstoppable Queen riffs.
Catalinbread Naga Viper Modern Treble Booster Pedal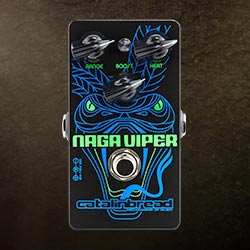 Another killer option for nailing Brian May's Dallas Rangemaster treble booster sound is the Catalinbread Naga Viper. Beyond its basic tuning, the Naga Viper enhances the classic circuit with the addition of two extra controls - range and heat. The original Rangemaster had just one control -- boost -- which most guitarists dimed to push their amps as hard as possible. The range knob is a continuous control which allows you to go from classic treble-boost to a full-range boost and anywhere in-between -- as the original could only function as a set frequency "treble-booster." The heat knob gives you control over the gain level saturation, unlike the original which was fixed at maximum gain.

If you're simply looking for a Rangemaster stand-in and don't need the added AC30 voicin of the Galileo, the Naga Viper is the perfect option for dialing-in true Brian May treble-boosted tone.