Customer Kudos
"Most musicians with families and bills can truly benefit from zZounds Play as you Pay."
January 1, 2022

zZounds' Iconic Rigs: Tony Iommi
The gear you need to riff like the godfather of metal!
After losing several fingertips on his fretting hand in a bizarre factory accident, it didn't seem like Tony Iommi would ever play guitar again. What could have been a career-ending incident ended up fueling Iommi and shaping a playing style that would influence generations of hard-rock guitarists. Widely considered to be the godfather of metal, the Black Sabbath axeman is known for his simple, yet heavy riffing; three-semitone drop-tuning technique; frequent use of dark tritones -- and, of course, for nearly 50 years' worth of heavy music around the world.
You don't need a wall of Laney full stacks to achieve the tone of Tony Iommi (although that would be pretty cool). Read on to learn about a few key pieces of gear that will help you along your way to riffing like metal's elder statesman.
Itching to perfect some Sabbath riffs in exacting detail, but don't want to replace everything in your whole rig? Don't worry -- just check out this exclusive video where we nail the seminal Iommi tone with one simple, yet powerful piece of gear (hint: it has his name on the face plate).
Learn more on the zZounds Blog »
Learn how to get Tony Iommi's tone on a budget:

Check out more legendary artists in our Legends of Tone video series »
Epiphone Tony Iommi SG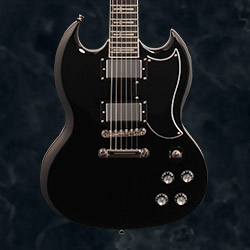 Known for playing an array of modded and signature SGs throughout his career, Tony Iommi can be seen in most videos and photographs coaxing his mix-cutting tone out of these quintessential solidbody guitars. This signature SG from Epiphone takes the design of Iommi's personal SG Custom, and delivers it in a package that's attainable for players on a budget.

Adorned with Iommi's instantly recognizable cross inlays, and loaded with the same signature Gibson USA humbuckers as his own personal SG, this Epiphone can't help but sound just like the master himself.
Catalinbread Sabbra Cadabra Boost Overdrive
Tony Iommi's early signature sound was the result of an "always on" treble-booster plugged into cranked Laney Supergroup amps. While this is an insanely satisfying way to play guitar, most players nowadays can't get away with that kind of stage volume. The Sabbra Cadabra is a custom-tuned Rangemaster-based booster combined with the preamp section of a Laney Supergroup in a box that will fit on your pedalboard.

The two circuits are carefully voiced together to achieve the riffs for which Tony Iommi is so well known, so you can experience spot-on Black Sabbath tone without rupturing your eardrums. Four controls allow you to fine-tune the response to your guitar rig.
Catalinbread Naga Viper Modern Treble Booster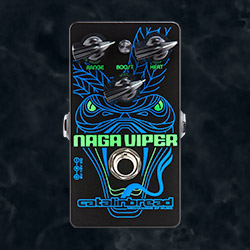 One of the most integral pieces of Tony Iommi's iconic rig is a custom-tuned Dallas Rangemaster Treble Booster. The original effect wasn't a pedal, but a small metal enclosure with front-mounted knobs and that would sit atop Iommi's Laney Supergroup amps. The Rangemaster had just one boost control, which Tony dimed for maximum output volume, pushing his British tube heads for driving, harmonic-laden metal tone. The Naga Viper is a faithful recreation of the original Dallas Rangemaster, with extra controls for "range" and "heat."

The "range" knob gives continuous control from classic treble-boost, to full-range boost, improving upon the original's set frequency. The "heat" knob controls the gain saturation, unlike the original, which was perpetually set at max gain.