Customer Kudos
"Excellent Customer Service wide variety of gear. Great payment plans."
May 1, 2023

zZounds' Iconic Rigs: Kirk Hammett
Having shred upon countless stages in behemoth metal act Metallica since 1983, Kirk Hammett knows a thing or two about what it takes to achieve blistering tone. From
Kill 'Em All
to
Death Magnetic
, Metallica's sound and rigs have evolved, but Hammett's guitar work continues to cut like a knife.
Luckily, thanks to a slew of signature gear, you don't need a toiling guitar tech to nail that screaming "Disposable Heroes" solo. Check out this edition of our Iconic Rigs series and learn more about Kirk's searing thrash-metal tone!
Want all the fury of Metallica's tone but can't afford a semi-truckload of gear? See our guide on the
zZounds Blog,
where we show you how to get thrashing tone with just two of Kirk's pedals!
Get the Kirk Hammett tone on a budget:

Check out more artists in our Iconic Rigs video series »
ESP LTD Kirk Hammett Nosferatu Electric Guitar

With the stripped-down simplicity of a single EMG 81 pickup and volume control, this signature model is a metal workhorse that pays homage to Kirk Hammett's love of vintage horror. Graphics inspired by the 1922 vampire film Nosferatu adorn the top, while custom crescent moon, rat and spider inlays run up and down the neck.

Sling up this horror-themed axe and dive bomb through all your favorite Hammett solos with the help of a Floyd Rose locking tremolo and a thin-u-shaped, three-piece maple neck.

Dunlop KH95 Kirk Hammett Wah Pedal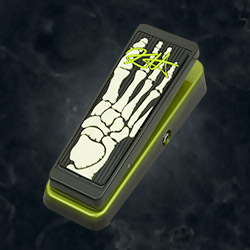 The signature KH95 wah pedal is a piece of gear that was devised purely out of necessity. With Metallica's large, often uniquely shaped stage sets, it wasn't feasible for Kirk to always return to the same location for every solo that required a wah effect.

His guitar tech's solution: Multiple "shell" wah pedals placed around the stage, connected to a backstage, rackmounted DCR-1SR Crybaby unit bearing Hammett's precise settings. Initially just a shell for a controller, this pedal now comes loaded with the same circuitry and settings found in Dunlop's rack unit, so you can tap into Kirk's distinct wah tone.