Customer Kudos
"zZounds is simply the best. Great selection, great people, super fast and free shipping, and convenient payment plans."
January 2, 2022

Harmony Guitars
An American-Made Legacy Continues
If you remember the Harmony guitars of the mid-1960s, you recall their entirely original body styles, features, and tones. You also may appreciate the fact that Harmony is back in business, building guitars in Kalamazoo, MI.

Harmony's current roster both revamps legacy models and blazes new trails with original designs. There is something here to suit nearly any player. Each of these models sports premium features like custom gold foil pickups, nitrocelluose finishes that age with grace, ebony fretboards, locking tuners, and orange drop capacitors. Each Harmony guitar also comes shipped with a Mono case to add even more value to an amazing instrument.

Learn more about each Harmony model below and discover which best suits your musical vision!
Shop Harmony Guitars »
Harmony Comet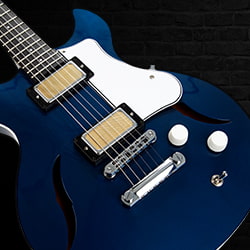 Taking inspiration from the Harmony H72, the Comet offers tone and feel unique in the modern Harmony lineup thanks to its semi-hollow body and mahogany construction. A pair of custom gold foil humbucker pickups faithfully capture the Comet's natural resonance, adding a degree of authentic warmth.

Its sharp upper horns and six-in-line headstock both echo and defy traditional aesthetics for a look that will please traditionalists and avant-garde players alike.
Harmony Silhouette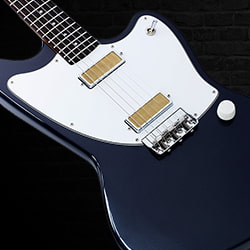 If angular, offset bodies fit your vibe, the Silhouette is the Harmony model for you. Designed with an alder body that's as bold today as it was in the '60s, the Silhouette has tone to match thanks to a pair of custom gold foil mini-humbuckers. A three-position switch and tone and volume knobs let you dial in your preferred blend of twang or bite.

The Silhouette's C-shaped maple neck is a breeze to play on, and compensated saddles on its half-bridge make for easy action adjustments, letting you tailor its feel to your liking.
Harmony Rebel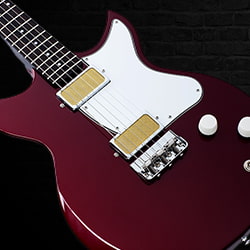 A streamlined throwback to Harmony's midcentury model of the same name, the Rebel is equipped with two custom gold foil humbuckers, three-way toggle, and a volume and tone knob: all you need to rock! Gain full access across the ebony fretboard thanks to the Rebel's fiendish deep cutaway horns. Its comfortable C-shaped mahogany neck makes fretboard acrobatics that much more fun.

Utilitarian features like a bolt-on neck and straightforward wiring make the Rebel a workhorse, while thoughtful touches like orange drop capacitors and a forearm contour will have you wanting to play for hours on end.
Harmony Jupiter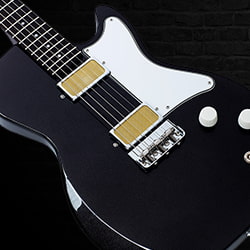 Big, bold tone is specialty of the Jupiter, an update to the classic model of the same name. The single-cutaway, nearly flat slab body indicate this is a no-nonsense rocker. Thoughtful touches like the forearm contour and locking tuners help elevate the Jupiter into professional status.

The Jupiter's custom gold foil humbuckers play well with pedals, giving you full-bodied cleans or a gritty base tone ripe for overdrive and fuzz. Its solid mahogany body and neck provide enough sustain to travel to Jupiter and back.
Harmony Juno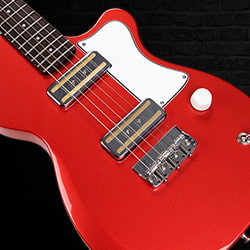 Another original in the modern Harmony line, the Juno caters to players seeking full-sized tone in a compact package. One thing must be made clear -- the Juno has a full 25" scale length, so it plays like a regular guitar. Its scaled-down mahogany body is made to fit comfortably for players of all sizes and ages.

The Juno also features a unique pairing of custom gold foil P-90s. These pickups punch with plenty of harmonic detail suitable for any style. Pull up on the volume knob to instantly replicate the sound of a rolled-down tone knob, perfect for jazz or softer, percussion-like tones.