Customer Kudos
"zZounds.com is just awesome hands down. I would never buy an instrument anywhere else."
January 18, 2022

Boss 200 Series
Cover Tonal Ground, Not Pedalboard Space
Boss developed their 200 Series of pedals to achieve a library of tones without a massive physical footprint. Each of the four pedals specializes in drive, delay, modulation or EQ, giving players access to classic and cutting-edge effects alike. Added functionality like tap tempo, beat divisions, on-board boost, memory presets, MIDI compatibility and more make these pedals the centerpiece of any pedalboard.

Whether you're trying to recreate the tones of your heroes, want to push new sonic boundaries, or you just want an extremely functional, flexible pedal in your rig, you owe it to yourself to check out the Boss 200 Series!
Shop Boss 200 Series »
Boss OD-200 Hybrid Drive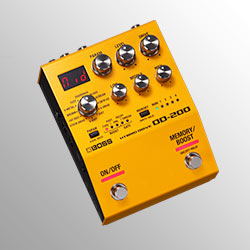 The OD-200 Hybrid Drive puts 12 different drive types, a boost that runs before or after your drive, a noise gate, 4 memory slots and a 3-band EQ at your feet. It's an overdrive arsenal in a stompbox, that's as intuitive to use as it is versatile. Its advanced hybrid analog/digital circuitry meticulously recreates classic Boss pedals, including the OD-1, DS-1, BD-2 and more.

Need a boost? The OD-200's second footswitch engages a boost, which you can set to run before or after your chosen drive tone. There's also a gate circuit with adjustable threshold and decay to help keep unwanted noise at bay as you pile on the gain.
Boss DD-200 Digital Delay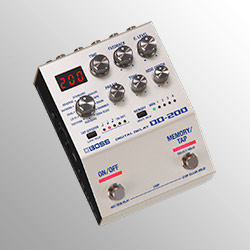 Boss has long been a leader in delay pedals, be it with the undeniable warmth of bucket brigade analog delays or with pristine and crisp digital delays. The DD-200 draws upon that legacy to offer guitarists a plethora of delay options, including out-there options like the Tera Echo, Pad Echo, and Drum, based on the Binson Echorec 2.

Control tempo via a knob or tap footswitch and view BPM on the LCD screen. The four memory slots let you easily go from vintage slapback to warbly tape to modern ethereal repeats in an instant.
Boss MD-200 Modulation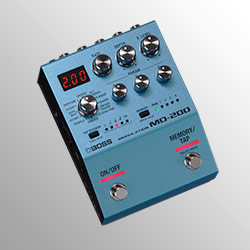 The MD-200 brings an entire catalog of modulation effects together in one streamlined pedal. It covers the standards, like chorus, flanger, phaser, vibrato, tremolo, and rotary effects, and Boss has also included a funky auto wah, a slicer and an overtone effect for a comprehensive collection.

Selectable beat divisions and tap tempo, as well as two parameter controls specialized for each effect type let you dial in the perfect sounds for your set list. Stereo I/O and an expression pedal input add even more control flexibility.
Boss EQ-200 Graphic Equalizer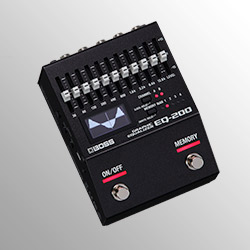 Never settle for less-than-perfect tone at a gig again! The EQ-200 saves the day with not one, but two separate channels of 10-band equalizers that you can run in series, parallel, or stereo. What's more, each band has one of 3 selectable frequency centers, letting you really fine-tune your tone.

Four on-board memory slots let you store custom EQs for different parts in your set, for different guitars used onstage, or any reason! The handy Panel Lock function keeps your settings in place, protecting against accidental bumps.