Customer Kudos
"zZounds has excellent customer service and a commitment to customer satisfaction. They have knowledgeable sales and support. Prices are competitive. They are responsive and have a great selection of gear."
March 9, 2023

The ToneMatch brings you closer to the true sound of your voice and instruments.
Bose ToneMatch Digital Mixers
Get more from your PA system with a ToneMatch mixer.
Artists who perform through
Bose portable PA systems
know about their consistent audience coverage, clear sound, and portability. But the best-kept secret of all just may be Bose ToneMatch compact digital mixers.
The Bose ToneMatch T4S and T8S couldn't be any easier to use. Just tell your mixer what kind of microphone you're using, or which guitar you have plugged into it, and the mixer dials in a ToneMatch preset to get you sounding your best -- automatically. You can further tweak your sound with EQ, compression, reverb, tap-tempo delay, and more great-sounding effects -- and save your own presets to make your setup a snap.
You don't need to rock a Bose-branded PA system to reap the benefits of these compact mixers! The T4S and T8S both have stereo analog outputs, so they play nice with any kind of PA speaker. And if you do already have a Bose PA system with a ToneMatch port, the ToneMatch T4S mixer connects easily with the included ToneMatch digital cable. Add the
optional Bose ToneMatch Power Supply cable
to run your ToneMatch T4S as a standalone mixer or USB interface, with or without a Bose L1 system.
Best of all, you can own a new Bose ToneMatch mixer today and pay for it at your own pace, thanks to our zero-interest payment plans. Add a ToneMatch to your rig for low monthly payments!
ToneMatch T4S compact 4-channel mixer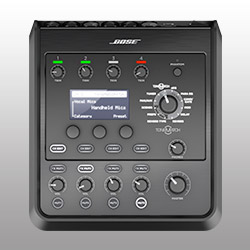 The T4S mixer adds updated effects and expanded I/O in the same compact footprint as Bose's original T1 ToneMatch audio engine mixer. This ToneMatch T4S is built to travel -- just snap on the included magnetic cover to preserve your knob settings, and toss it in your bag.

The "4" in T4S means you get four mic preamps with XLR-1/4" combi inputs (plus a pair of 1/4" line ins). And the "S" in T4S stands for stereo: this mixer has TWO ToneMatch digital outputs, so you can add a second ToneMatch cable (or any Cat5e or Cat6e Ethernet cable) and play through a stereo pair of Bose L1 towers!

The T4S also offers analog 1/4" line-level outputs for connecting to any other PA system -- just add the optional ToneMatch Power Supply (sold separately) if your speakers don't have a dedicated ToneMatch port.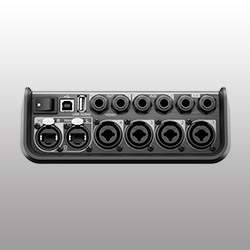 ToneMatch T4S Features:
- Compact 4-channel digital mixer with built-in effects and digital connection to Bose PA systems
- Four high-quality audio preamps with XLR-combo jacks for microphones or instruments, and switchable phantom power
- Two ToneMatch outputs to send digital audio and receive power
- Two Aux sends, and Two Aux inputs for additional sources
- USB-A and -B for USB drive playback or PC/Mac interfacing
- Independent headphone output, and balanced 1/4" TRS stereo outputs
- Includes a ToneMatch cable for connecting to Bose PA systems with a ToneMatch port for digital audio and power
ToneMatch T8S compact 8-channel mixer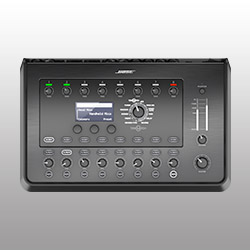 Amazingly compact and powerful, the Bose T8S ToneMatch packs 8 channels and cutting-edge effects processing into a go-anywhere digital mixer that works with any brand of PA system. Like the T4S, the T8S comes with a magnetic cover that will preserve your knob settings between gigs.

The bigger brother to the T4S ToneMatch mixer, the T8S features 8 mic preamps with XLR-1/4" combi jacks, a pair of 1/4" aux inputs, dedicated XLR and 1/4" line-level output pairs, and four 1/4" aux sends.

The T8S even includes USB-A and USB-B ports for playing back audio from a thumb drive or computer.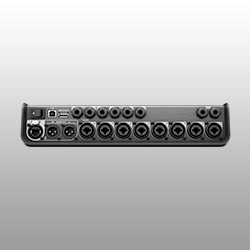 ToneMatch T8S Features:
- Compact 8-channel digital mixer with built-in effects
- Eight high-quality audio preamps with XLR-combo jacks for microphones or instruments, and switchable phantom power
- Two Aux inputs for additional sources, four Aux sends
- Balanced 1/4" TRS and XLR stereo outputs
- USB-A and -B for USB drive playback or PC/Mac interfacing
- Independent headphone output
- Includes a magnetic cover to protect controls and connectors
- Includes a Bose ToneMatch power supply

Bose ToneMatch Power Supply cable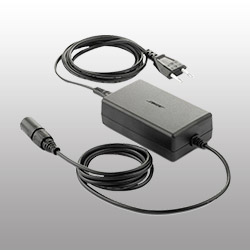 To run your ToneMatch as a standalone mixer/interface without a Bose L1 system, you'll need the Bose ToneMatch Power Supply cable. This cable is already included with the larger T8S model, but it's an optional add-on for the smaller T4S model. If you don't have a Bose L1 system, but you want to use the ToneMatch T4S with your existing setup, add this power supply cable.
Customizable ToneMatch presets for you and your instruments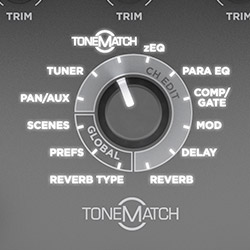 What makes the T4S and T8S unique among digital mixers is Bose ToneMatch technology. It's not always easy to properly EQ an instrument or microphone at a gig. There's never enough time to dial in everything. It's a constant struggle from venue to venue, and it's less than satisfying to perform when you're not comfortable with your tone. That's why Bose invented ToneMatch technology -- to make it easier for you to achieve ideal sound, so you can focus on connecting with your audience, not connecting your gear.

ToneMatch presets remove the guesswork from the EQ process. It's as if a skilled audio engineer listened to the sound of your particular instrument or microphone, made a series of EQ adjustments to optimize the sound, and then saved those changes as a preset to be instantly recalled at the touch of a button. That's the power of ToneMatch technology.

Each ToneMatch preset is custom-designed by a Bose engineer, often working directly with instrument and microphone manufacturers including Taylor, Gibson, Breedlove, Ovation, Takamine, Shure, Audix, and more. This ensures that the source sounds the way the manufacturer intended when played through your PA.

If you don't see a specific preset for your instrument or microphone, don't worry -- Bose includes general presets for acoustic guitars with piezo pickups, along with presets for popular microphones and instruments such as bass, mandolin and violin. Access to presets is easy -- they're organized into banks: vocal microphones, electric guitars, acoustic guitars, keyboards, basses, percussion, winds and horns, and more. Select a bank, load a preset and play.

To refine your sound further, use the ToneMatch's zEQ feature. This EQ technology automatically adjusts the range of tone controls to match the instrument or microphone selected, making it easier to fine-tune your sound. Unlike the fixed EQ ranges of conventional mixers, zEQ provides low, mid and high ranges for each ToneMatch preset, allowing you to cut or boost specific frequency ranges tailored for each instrument or microphone. With ToneMatch zEQ, you don't have to use your mixer's one-size-fits-all EQ section.

As you'd expect from a high-end digital mixer, the ToneMatch gives you a full suite of effects and dynamics processing. Choose from multiple delay types, modulation effects, and dynamics processors and assign them independently to each channel. Five different reverbs can be globally assigned, with individual channel controls for delay time, mix level, and brightness. Your ToneMatch mixer also includes a chromatic tuner that can be accessed from any channel. The Scenes feature lets you store your customized settings for specific gigs and recall them at a touch of a button.

Get all the benefits of a digital mixer in a compact package with the Bose T4S and T8S. Especially if you already use a Bose PA system with a ToneMatch port, the T4S is the perfect addition to your rig. And the T8S is the perfect choice if you're looking for a compact digital mixer for a small venue.