Customer Kudos
"Most musicians with families and bills can truly benefit from zZounds Play as you Pay."
January 1, 2022

Record through emulations of vintage microphones with Antelope's cutting-edge mic modeling technology.
Antelope Audio Edge Microphones
Compare Antelope's Edge Solo and Edge Duo modeling mics
If you had the key to a locker full of classic microphones, what would you record? With the Antelope Audio Edge family of large-diaphragm XLR condensers, and vintage mic emulations available both as native plug-in software or FPGA FX running on
Antelope's own audio interfaces
, you get access to the characteristic sounds of 11 (and counting) of the world's most sought-after microphones.
Dial in your sound with stunningly accurate emulations of your favorite famous mics, audition different mic models, and even change polar patterns after recording -- it's all possible with Antelope mic modeling technology.
All Antelope's modeling mics are top-notch transparent large-diaphragm condensers, delivering exceptional dynamic range and frequency response even before you choose your favorite vintage mic flavor.
Follow our Spotlight guide to compare the Edge Duo and Edge Solo modeling microphones.
Shop all Antelope Audio microphones »
Edge Solo: Everything cardioid...mic modeling made easy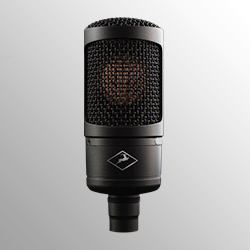 The simplest Edge modeling microphone, the Antelope Edge Solo connects to your audio interface/mic preamp via a standard mono XLR cable. With a fixed-cardioid pickup pattern, the Edge Solo works hand-in-hand with Antelope's mic modeling plug-in to emulate a locker full of the greatest cardioid-pattern mics in history.

Straightforward and easy to master, the Edge Solo is the most affordable member of Antelope's Edge family of large-diaphragm condenser modeling mics. If you're new to the world of microphone modeling, the Edge Solo is an excellent first step.

Edge Duo: Dual membranes for multi-dimensional modeling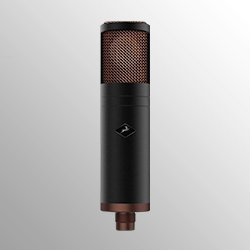 Get creative in the studio with Antelope's Edge Duo. This large-diaphragm condenser comes with a breakout Y-cable with two independent 3-pin XLR outputs, capturing the signal from the front and back of the Edge Duo's dual-membrane capsule. Connect both XLR cables to your audio interface's preamps, and you'll be able to individually process the signals -- so you can you vary the mic's polar pattern within the plug-in, even after recording.

With switchable patterns (cardioid, figure-8, omni, and everything in between), the Edge Duo can accurately model the characteristic on- and off-axis response for each of the 11 included mic emulations. Capture a "dry" signal and apply mic emulations later -- with the Edge Duo, you have full control over polar pattern, proximity effect, and off-axis response during or after recording.

Run Antelope mic emulations as native plug-ins or FPGA FX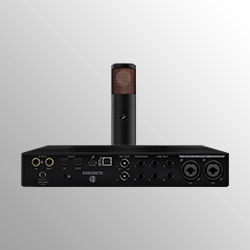 Plug your Edge XLR microphone into
one of Antelope Audio's own interfaces -- including the Discrete, Orion, Goliath, or Zen models
-- and take advantage of the interface's on-board processing to power Antelope's FPGA-based vintage microphone emulations in real time.
You can also use Edge XLR microphones with any non-Antelope audio interface of your choice. Antelope's native software emulations run as a VST, AU, or AAX plug-in in your DAW, on a Mac or Windows PC with a USB 2.0 port and an iLok to authorize, activate and run the software.
Microphone modeling: A locker full of classics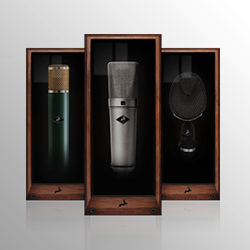 Your Edge mic includes a growing library of microphone models like the Berlin 47 FT, Berlin 49T, Berlin 57, Berlin 87, Berlin 67, Berlin M103, Vienna 12, Vienna 414, Tokyo 800T, Oxford 4038, Sacramento 121R, and coming soon, the Berlin K86, Berlin 47 Tu, Berlin V563, Berlin/Halske M25, Berlin M251, Minnesota 20, and Illinois 7B. Each model is based on a classic studio microphone.