Customer Kudos
"Love zZounds, I've bought many guitars here. Customer service is great. Shipping is fast and when I've had issues the return process was unmatched."
December 21, 2022

Alesis E-Drum Kits: Drum Sets for the Modern Drummer
Get inspired and drum your heart out with a new e-drum kit! Alesis e-drums are a great value, and deliver the ultimate experience. Not sure which is right for you? Check out the information below, or call our Gear Experts now for help with your purchase: 800-460-8089.
Check out the Strike Pro kit in action!

Turbo Mesh Kit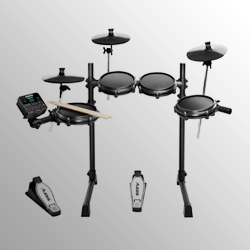 The Alesis Turbo Mesh kit, the latest addition to Alesis' critically-acclaimed roster of all-mesh electronic drum kits. This kit has got it all: An 8" mesh snare drum, (3) 8" mesh toms, (3) 10" cymbals, custom-designed Alesis hi-hat pedal and kick pedal, and a durable aluminium rack. Fueling the Turbo Mesh Kit is the Turbo Electronic Drum Module, loaded with 100+ in-demand percussion sounds, 10 ready-to-play kits and 30 built-in play-along tracks. Open the box, and the Alesis Turbo Mesh Kit has everything you need to get up and playing right away. Alesis gives you the cabling, the power supply and drum key--all included for easy, hassle-free setup. Alesis even includes a pair of drum sticks!

Features:
- Mesh drum heads for a quiet yet natural response
- Everything you need: 8" snare pad, (3) 8" tom pads, (3) 10" cymbals: hi-hat, crash, and ride; kick pedal & hi-hat pedal
- Aluminium rack -- super solid for stability and flexibility
- Connection cables, drum sticks, drum key, and power supply included


Nitro Mesh Kit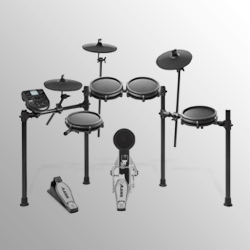 The Alesis Nitro Mesh Kit delivers the most realistic playing experience for every drummer, and it remains perfectly quiet in situations when you don't want to disturb anyone. It is a complete 8-piece electronic drum kit centered around next-generation Alesis mesh head drum technology. Mesh heads are the unanimous preference of electronic drummers for their natural feel and ultra-quiet response.

The Nitro Mesh Kit gives you an 8" dual-zone mesh snare drum and (3) 8" mesh toms. It includes everything else you need to make a complete drum kit; (3) 10" cymbals, custom-designed Alesis hi-hat pedal and kick pedal, and a durable 4-post aluminum rack. Alesis also includes all the cabling, a power supply, and drum key for easy setup. All of this connects to our legendary Nitro electronic drum module, which has hundreds of drum and percussion sounds, 40 drum kits, and 60 built-in play-along tracks. And, as all drummers demand, it has an aux input to connect a smartphone or music player for instant practice and accompaniment.

Features:
- Mesh drum heads for a quiet yet natural response
- 8" dual-zone snare pad, (3) 8" tom pads
- (3) 10" cymbals: ride cymbal, hi-hat, crash w/choke
- 4-post aluminum rack -- super solid for stability and flexibility
- Kick drum, kick pedal, hi-hat pedal, connection cables, drum sticks, drum key, and power supply included

Command Kit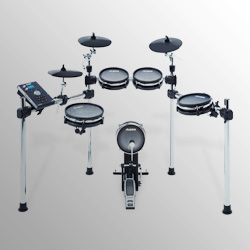 The Alesis Command Mesh Kit is built around the Command Advanced Drum Module with 74 kits, with a 10" mesh snare pad and a 8" mesh kick pad with pedal included. You'll also get two 9" dual-zone rack tom pads, along with an 11" dual-zone floor tom pad. The value of this kit is unbelievable -- an 8-piece drum kit with mesh heads and an advanced drum module for this price? You've got to see it to believe it.

Features:
- Two 9" dual-zone rack tom pads
- 11" dual-zone floor tom pad
- 10" mesh snare pad
- 10" ride, hats, and choke-able crash
- Premium 4-post chrome rack - Advanced drum module loaded with 600 sounds, 70 drum sets, and 60 play-along songs
- CD/MP3 aux input
- USB/MIDI connection for virtual instruments and recording software
- Headphone jack so you won't disturb your neighbors/family
- Load .WAV samples and play-along tracks via USB memory stick
- Mesh kick pad tower, kick pedal, hi-hat pedal, connection cables, drum sticks, drum key, and power supply included

Strike Kit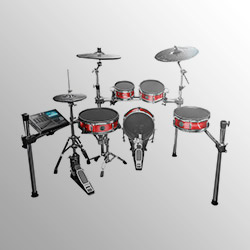 The Strike Kit is a game-changer. In fact, it might change everything you think you know about electronic drum kits! Almost any e-drum kit out there will boast "realistic" sound and feel, but the Strike Kit gives you premium wood shells in standard acoustic drum sizes, so you'll really feel at home if you're an acoustic drummer. The mesh heads provide amazing acoustic-kit-like feel, and each drum has a knob on its side that lets you adjust the that head's sensitivity fast, without digging through menus on the module. This kit delivers serious acoustic vibes without all that loud noise!

With the Strike Kit, you'll also get a set of electronic cymbals -- a 16" 3-zone ride, 14" crash, and a 12" hi hat. The 14" crash is choke-able, which adds to its realism. All of the cymbals have a cool, "hammered" look, and a larger bell that makes it a bit easier to differentiate zones. The attention to detail in these cymbals is truly incredible! Just another feature that makes these kits feel like the real thing.

The heart of the Strike Kit is the Strike Performance Module. Alesis loaded this "brain" with 100 brand-new drum kits and over 1600 instruments, on-board sampling (so you can quickly create loops to play along with), an SD card slot, and USB/MIDI connectivity. With a 4.3" color screen and independent volume sliders for each drum, this drum module makes it fun and easy to dial in your drum sounds and customize your kits.

Features:
- Premium wood shells
- 14" snare, 8", 10", and 12" toms, and 14" kick with mesh heads
- 16" triple-zone ride cymbal, 14" choke-able crash cymbal, and 12" moveable hi-hat
- On-board Sampling capability
- Strike Performance Module with 4.3" color LCD screen and individual outputs

Strike Pro Special Edition Kit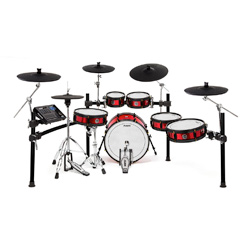 The top-of-the-line Alesis e-drum kit, the Strike Pro is the most complete electronic drum set in its price range, with full-sized drum pads that give you the look, feel, and sound of acoustic drums.

The original Alesis Strike drums were revolutionary, featuring ground-breaking drum and cymbal design. The Strike Pro Special Edition builds on that legacy, most notably with its full-sized 20-inch kick drum. It looks and feels like an acoustic drum. When you sit behind the Strike Pro Special Edition with its full-size kick, the playing and visual feel is fundamentally identical to an acoustic set.

Each individual drum has a sensitivity knob directly on the drum -- no more scrolling through menus on the module to tune your e-drums to your liking. And the Strike Pro Kit gives includes the same Strike Performance Module as the Strike Kit, with a big color screen, on-board sampling, individual outputs and more.

Features:
- Premium wood shells
- 8", 10", 12", and 14" dual-zone mesh toms w/hybrid wood shells
- 16-inch Strike ride cymbal (3-zone) w/full rubber pad and hammer marks
- (3) 14-inch Strike crash cymbals w/choke, w/full rubber pads and hammer marks
- On-board Sampling capability
- Strike Performance Module with 4.3" color LCD screen and individual outputs