Customer Kudos
"I have done a lot of business with zZounds over the years and have found them to have superior customer service and great financing plans. I have never had an issue with any order I have placed and always receive those orders in a very timely manner. I already recommend zZounds to anyone in need of new gear."
February 22, 2023

ADAM Audio A Series Speakers
Built to Reveal
ADAM Audio has completely re-invigorated the A Series, their most popular line of studio monitor speakers. While they may look familiar, these updated speakers boast plenty of advanced features and components that set them apart in this price range.

First is the iconic X-ART ribbon tweeter design. This unique tweeter yields articulate, airy top end with wide horizontal coverage fostered by the HPS waveguide. Each of these speakers is also made from premium components, like the multi-layer mineral fibers that give their long-throw woofers maximum rigidity and a super-clear response.

A Series monitors also feature ADAM's innovative DSP voicings to let you customize your experience. Choose Universal Natural Response, ADAM's proprietary dynamic voicing -- or go with Pure for completely uncolored response. The EXT (extended) voicing option lets you customize each speaker's response remotely in real time via the free-to-download A Control software. A collaboration with Sonarworks has even brought room correction tools to the A Series!

Get schooled in each ADAM Audio A Series speaker in our Spotlight guide below.
Shop All ADAM Audio A Series Speakers »
A4V Active Studio Monitor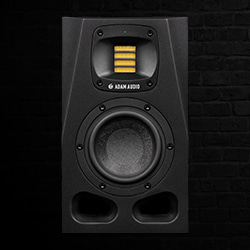 Your entry point into the A Series, the A4V is the most compact speaker in the line. With a 4" long-throw woofer and a frequency range of 53 Hz to 42 kHz, the A4V is a workhorse on a variety of tasks from mixing to podcasting. And at this price range, it's a competitive hi-fi option for audiophiles and gamers, too!

The HPS waveguide is rotatable, so you can turn your A4V speaker by 90 or 180 degrees to maximize your sound in small spaces while retaining the wide audio dispersion. Couple this with intuitive room adaption controls on the back panel and you may have found the ultimate small studio speaker in the A4V.
A7V Active Studio Monitor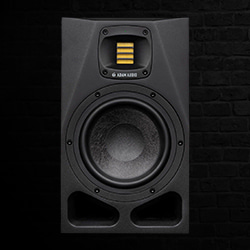 The A7V is the successor to ADAM's best-selling A7X model. Those familiar with the A7X will appreciate the A7V's upgraded long-throw woofer and the stunningly clear response that its multi-layer mineral fibers produce. Able to reach down to 42 Hz, the A7V is better suited for use cases in which absolute precision is needed across the frequency spectrum.

Like the A4V, the A7V can be tilted on its side for a better fit. No matter how you set it up, rest assured that the A7V's Class-D woofer amp and Class-AB tweeter amp are working harmoniously to bring you the best possible audio image and representation of your mix.
A44H Active Studio Monitor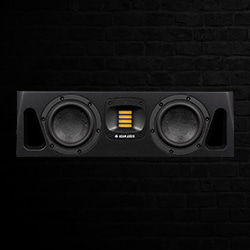 Perhaps the most unique speaker in the A Series is the A44H. This two-way horizontal speaker features twin 4" woofers on either side of an X-ART tweeter. Its 17" width allows it to fit in tight spaces -- even on a rack shelf. Alternatively, it can be flipped to a vertical orientation for supreme Y axis coverage.

The A44H's design makes it great as part of a stereo pair, but it also excels as a center speaker in a surround or immersive setup, or situated directly under a video monitor.
A77H Active Studio Monitor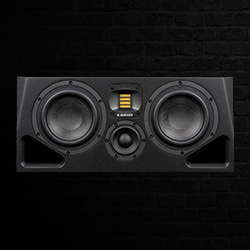 ADAM Audio's A77H takes everything users loved about the A77X and improves upon them! This three-way active speaker boasts a dedicated midrange driver to better articulate sounds that fall in the most sensitive range of human hearing.

The midrange driver found in the A77H is inspired by ADAM Audio's flagship S series, trusted by pros in the most critical of applications. This driver frees up the woofers to do what they do best: bass, and the the ribbon tweeter to deliver singing high-end. This leaves you hearing a clearer, more proportional sonic spectrum.
A8H Active 3-Way Studio Monitor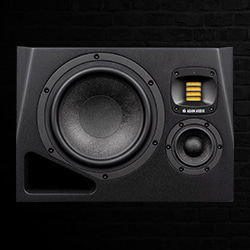 Last but certainly not least, the A8H is a finely tuned 3-way studio monitor purpose-built for precision. With its dedicated 8" woofer, 3.5" midrange driver, and articulate X-ART tweeter, the A8H sounds clear across an expansive frequency range.

No slouch, the A8H is rated for 500 watts peak power -- all the output you need and then some. Connect to free A Control software to fine-tune this speaker's settings and access room correction tools for a tailor-made acoustic fit.