zZounds Spotlight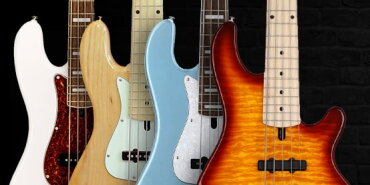 Customer Kudos
"zZounds is my go to online music store. I've always had great experiences. Great folks, great gear, great payment plans!"
May 5, 2023
14 products
Search Results
A bass built for the biggest stages! The Lakland Skyline 55-02 Custom bass excites with LH3 hand-wound pickups and an onboard Lakland-designed preamp.

Traditional styling, delicious tones! The Lakland Skyline 55-60 bass features a "Vintage J" body design with Lakland-designed J-style bass pickups.

An active bass fit for studio or stage, Lakland's Skyline 55-02 Deluxe features a flame maple top, LH3 pickups, and a highly playable body design.

zZounds Spotlight

Classic aesthetics and a variety of tones! The Lakland Skyline 44-64 Custom bass offers a maple neck and Lakland Custom P and J pickups for tone versatility.

With Lakland split-coil hybrid pickups, nuanced neck taper, and an ebony fretboard, this 4-string bass has everything you need to dominate the low end!

This vintage design J-style bass is a tonal beast with premium appointments like handmade Lakland pickups, a comfortable neck, and pearl inlays!

This 5-string Skyline features an active preamp, Bartolini split-coil pickups, and a fast, 35" scale neck for incredible tone and playability!

$1,144.00

---

No Credit Check

No Credit Check

Dial in nearly any tone you need with this versatile bass! Lakland's 44-64 Custom PJ Deluxe bass offers a rich, defined bass tone and a classic body style.

Incredible note clarity and tone at your fingertips! The Lakland Skyline 55-02 delivers an active punch with LH3 bass pickups wound by Lakland in Chicago.

Five strings in perfect harmony! The Lakland Skyline 55-02 Custom bass features a 35" scale maple neck with a tight tone and deep bottom end.

A vintage design with modern comforts! The Lakland Skyline 55-60 "Vintage J" custom bass boasts hand fabricated and wound pickups with passive controls.

A beautiful bass with active preamp versatility, Lakland's Skyline 44-01 Deluxe bass uses a pair of Bartolini MK-1 pickups to offer a huge variety of tones.

$1,199.00

---

No Credit Check

No Credit Check

With a thin, tapered neck profile, proprietary LH-3 pickups, and an exquisite quilted maple top, this Lakland bass has the looks to match the tone!

A bass heard from Miles Davis to the Rolling Stones! The Lakland Skyline Darryl Jones 4 offers a unique body style and powerful Lakland single-coil pickups.
Family owned since the mid-1990s, Lakland builds some of the bass world's most well respected instruments, favored by discerning players and professionals. Call our Gear Experts now for help with your purchase:
800-460-8089
.