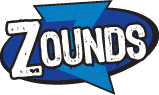 One less Z -- a TON more savings! Find gently used, blemished, and resealed gear at blowout prices. Hurry -- quantities are limited!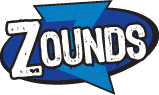 One less Z -- a TON more savings! Find gently used, blemished, and resealed gear at blowout prices. Hurry -- quantities are limited!
Customer Kudos
"Great stock. Friendly staff. Fast shipping. Great finance options. Great packaging to protect gear when shipping. Consistently the best experience overall for me through the years. Can't go wrong with zZounds."
November 21, 2022
14 products
With ultra-wide coverage, wireless control, and an 8-channel digital mixer built in, the all-in-one EVOLVE 30M PA system is great for events and small bands.

With a 12" woofer and a flexible array of 8 HF drivers you can easily aim to cover the whole room, this PA speaker delivers 1000 watts of clear Bose sound.

Essential -- it's in the name! This convenient little JBL PartyBox speaker is the go-anywhere speaker you've been looking for, with 6 hours of battery life.

This 800-watt PA system is built to move. Plug 4 microphones and 4 line sources into the 8-channel mixer -- and even stream audio from your Bluetooth device.

Extremely portable with 12 hours of operation on battery power, the LD Systems MAUI 5 GO 100 is great for small gigs, street performing, events, and more.

Travel light with this under-30-pound "suitcase" PA. The XP300B includes 2 speakers and a 6-channel mixer with 2 XLR mic inputs, Bluetooth, and built-in FX.

Only 29 pounds, this column PA system is easy to carry and set up! Get connected with 2 mic/line inputs, RCA-1/8" stereo line input, and Bluetooth streaming.

Mackie's FreePlay Live has all the performer or presenter needs in a PA, with two combi jack inputs, 1/8" aux input, and 150 watts of power.

Great for teachers and presenters, this rechargeable-battery-powered PA speaker comes with a wireless headset microphone and a built-in 4-channel mixer.

The LD Systems Mix 10 A G3 is perfect for self monitoring, or as a small-scale PA rig. It features a 7-channel mixer with built-in effects, and a 10" woofer.

Sporting a 10-inch woofer and a 12-hour battery life, the Samson XP310w is the perfect compact PA speaker for mobile gigs. Wireless microphone included.

With a speaker, stand, and mic included, the Gemini GSW-T1500PK pack lets you take the party anywhere. Link to a second GSW-T1500PK with TWS Bluetooth.

This battery-powered PA speaker rolls anywhere! Plug in your XLR mic and 1/4" instrument, and add a stereo source via RCA inputs, SD card, USB or Bluetooth.

Listen up, solo acoustic performers: Once you hear the LR Baggs Synapse PA fill the room with 180 degrees of full-range, natural sound, you'll never go back.
All-in-one PA systems are huge these days. Scratch that -- these PA systems aren't huge at all; in fact, they're often compact enough to carry by yourself. It's no wonder that portable PA systems like the Electro-Voice EVERSE, JBL EON ONE series, and
Bose L1 Pro series
are so popular with solo performers.
An all-in-one sound system generally consists of one or more speakers, and a mixer with channels for microphones, instruments, and line-level sources. Some systems have Bluetooth built in: they can pair with your phone or laptop to stream music wirelessly. Many portable PA systems utilize an elegant column speaker design, while the smallest PA systems are single battery-powered speakers with a built-in mixer, designed to set up outdoors or wherever amplification is needed.
Want expert advice choosing your next PA? Call our Gear Experts now for help with your purchase:
800-460-8089
.