Customer Kudos
"zZounds has the best prices, the best crew of helpful sales people and product support."
March 17, 2023

Bose L1 Pro Series
Intelligent power made portable
Bose changed the game with their original L1 family of compact line array loudspeakers. They've continued to innovate in the years since with the powerful
F1 series
and the effortless
S1 Pro system.
Decades of experience have gone into the Bose L1 Pro series of powered line array speakers. Available with 8, 16, or 32 line array drivers, Bose L1 Pro units remain portable and powerful as ever while introducing a host of features including an on-board mixer, remote mixing capabilities via the L1 Mix app, and completely redesigned subwoofers bearing innovative RaceTrack drivers.
Read on to learn more about the L1 Pro family and find the right system for you!
Shop Bose L1 Pro Series »
Bose L1 Pro8 Portable Line Array System
The most portable L1 Pro system, the Bose L1 Pro8 weighs in at 35 pounds, making it fairly easy to carry around the venue, especially with the base's integrated handle.

But portability doesn't come at the expense of functionality or power. The L1 Pro8 gets its name from its 8 hi-mid neodymium drivers, which are set in an articulated C-shape, and angled to offer complete 180-degree horizontal/40-degree vertical coverage, for consistent sound across smaller venues. The onboard mixer, which connects to your phone, offers the kind of mix sculpting previously only available in larger systems or through additional outboard gear.

The Bose L1 Pro8 is the potent, portable solution for intimate gigs and events.
Bose L1 Pro16 Portable Line Array System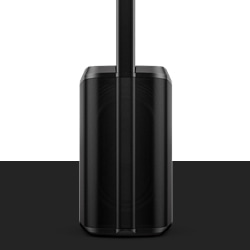 With twice as many mid-high drivers as the L1 Pro8, the Bose L1 Pro16 system takes the portable line array format to bigger stages and larger crowds.
The articulated J-shape arrangement of the L1 Pro16's drivers make for even horizontal sound distribution at audience level or on an elevated stage. Its integrated subwoofer houses an 10"x18" Racetrack driver able to deliver sub frequencies with plenty of definition. Fine-tune your mix via the Pro16's on-board mixer, a
Bose ToneMatch mixer,
or on your phone via the L1 Mix app!
The Bose L1 Pro16 will exceed your expectations with amazing sound for clubs, weddings and rehearsals.
Bose L1 Pro32 Portable Line Array System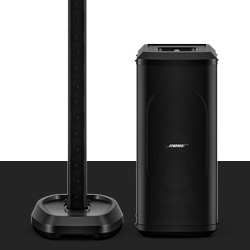 The biggest of the bunch, the Bose L1 Pro32 is the most powerful portable line array system Bose has ever offered.

The L1 Pro32 stacks 32 mid-hi drivers in a straight line for complete vertical coverage that doesn't degrade over distance, so even those in the back of the crowd will hang on your every word. And just like with the other L1 Pro units, its 180 degrees of vertical coverage makes for consistent sound no matter where an audience member sits. The L1 Pro32 is available with your choice of Sub1 or Sub2 subwoofer.

If you need a portable PA that's smart, sleek, and ready to shine at any gig, the Bose L1 Pro32 is your answer.
Bose Sub1 & Sub2 Powered Racetrack Subwoofers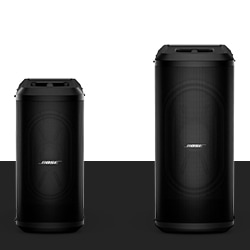 To accompany the L1 Pro systems, Bose has completely re-imagined their portable subwoofer speakers with the Sub1 and Sub2.

Both units feature proprietary RaceTrack drivers -- a 7"x13" for the Sub1 and 10"x18" on the Sub2. Their vertical oval shape more efficiently transmits low frequencies and makes for a space-saving chassis with an optimized center of gravity for easier carrying. Both units feature a SubMatch input for a single-cable connection to L1 Pro units. The proprietary SubMatch cable runs audio and power to the units, and this connection will automatically calibrate crossover frequencies and EQ. Both Sub units can also be used with other brand PA speakers and systems via dual line in and line out jacks.You can also stack two Sub units and run them in cardioid mode, for more precise placement of your low-end frequencies.

Your choice of Sub unit mainly comes down to how much output and range you need. The Sub1 can reach frequencies down to 40 Hz while the Sub 2 offers more output power and reaches down to 37 Hz.