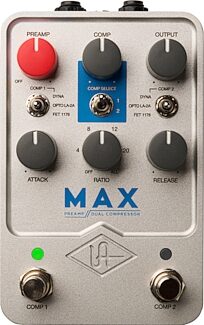 A UAFX-engine-powered pedal in a compact box, the Universal Audio Max is a preamplifier and FET compressor with warm dynamics fit for studio or stage.
$299.00
---
No Credit Check

No Credit Check
Overall User Ratings
(based on 1 ratings)
Submitted August 1, 2023 by a customer from gmail.com
"Not a lot of headroom + tricky software&quot
Verified Customer
zZounds has verified that this reviewer made a purchase from us.
I'm giving the pedal 2 stars because when it's dialed in it, particularly at low volumes, sounds amazing. But there's not a lot of headroom. I know the pre-amp is known for low headroom, but even when it's off there's a lot of distortion when you're pushing the gain. I tried to go into the UAFX app in an attempt to fix the issue. But the app itself is extremely finicky; I have the pedal registered but the pedal won't stay connected to my Bluetooth. And I've tried to update the firmware through my laptop, but then I'm having issues downloading the UAFX control app on my Lenovo notebook (which probably UA's fault, but another hoop to jump though). I've been in touch with UA and waiting on another response from them. At this point I would be happy to run the compressors parallel to see if it helps with the distortion.I'll also note that flipping the switch requires you to remember where the setting was before. Which can be tricky; remembering one setting of the comp is set at 9:00 when the other is set at 12:00 can be overwhelming. But is easy to get around once you spend time with the pedal. I know the $350 price tag is for the quality the pedal contributes to the tone, not the "experience" of turning knobs and pressing buttons. But at this point I'm worried about taking it on to a gig and being able to adjust it to the room/group/etc. Like I said, at low volumes it sounds amazing and it's so much fun to jam on. But worrying about it being a distraction on stage? Or simply getting the most out of it? For $350? Idk man. I hope I can get into the app and make the adjustments needed because this would be sweet to gig with.
Sound
Sounds great when dialed in. 90% of the time it distorts.
Features
Having to flip a switch then turn knobs can be frustrating because you have to remember where the knob was before.
Ease of Use
This is by far the most difficult paddle I've ever tried to calibrate a sound for.
Quality
Heavy duty plastic and digital computer parts; can't realistically ask for more from a digital pedal.
Value
It would be easier to get the clone of each pedal but a lot more expensive than this all in one.
Manufacturer Support
I've had one email back from the when usual "turn off and on again" instructions.
The Wow Factor
It emulates classic gear used to make classic sounds that are on recordings everyone enjoys.
Did you find this review helpful?
Thanks for your opinion!