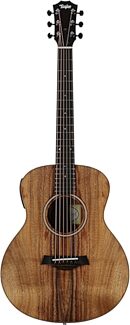 Bring the sound of the tropics with you wherever you go with this koa version of the GS Mini-e -- a veritable love poem to a beloved and beautiful tonewood.
Overall User Ratings
(based on 2 ratings)
Submitted January 19, 2023 by Russell N in Raleigh, NC
"Excellent Small Guitar&quot
Verified Customer
zZounds has verified that this reviewer made a purchase from us.
I bought this along with a full size Taylor 114CE. I had about a month with the 114 and it was absolutely wonderful. Loud, full and articulate sound and super classy all around for one of the cheapest guitars Taylor sells. This isn't a review for my 114CE though, I just bring it up for reference as I kind of compared this guitar to that one(fairly or unfairly).This guitar looks very nice. As with my 114, I was slightly disappointed that the finish wasn't quite as interesting as the pictures I've seen, but that's not to say that this guitar isn't beautiful; it is. The Koa wood is a medium-colored brown with interesting wood grain patterns. I wish a little bit that this guitar had a pick guard. That's my biggest complaint really, so it's not the end of the world really. The guitar looks good, but I doubt you'd ever have anyone fawning over the looks of the guitar.I just want to give Taylor so much love for the cases I got with both of my guitars. They are sturdy. They have plenty of pockets and a million different straps and handles to carry my guitars with. The GS Mini case is a little smaller and says GS Mini on it and it's amazing.When I picked this guitar up, I was floored with how comfortable it was. I mean, seriously... My arm doesn't have to go around a big full-sized Grand Auditorium. It just rests comfortably over the top. The neck is thinner than my 114. It's very noticeable, which could be a good thing or a bad thing depending on the person. I personally love the neck. There's no resistance and it's probably the fastest neck I've ever played on an acoustic guitar.All Taylor Guitars come with Elixir strings and they are absolutely fantastic. The sound coming out of this guitar is impressive. I own a low-end Washburn acoustic as well and the GS Mini has a much fuller sound. It's also just as loud. The electronics sound good. I've played around with them minimally but everything coming through the amp was clear. Adding chorus and reverb sounded great. This guy cannot compete with it's big brother on sound quality, though. The 114 is one of the best sounding acoustics I've ever played. The GS Mini just doesn't have the real estate to keep up with a full-sized Taylor in the sound department. That being said, they do sound better than a cheap acoustic and probably most other acoustics in the middle range. You pay a premium on the Taylor name and engineering. People say Gibson and Fender charge you more to put their names on the guitars, but the trade-off is that these companies make high quality guitars. If you bought a Gibson Les Paul, yes you'd be paying more for less guitar. What you get instead is (hopefully)the guarantee that what you are getting is a quality and dependable product. Could I have found a little guitar from one of the other brands that has an air frying feature? I don't know, I didn't use that filter... I wanted a Taylor that my wife and kids could play for a long time and this guy is perfect. This guitar isn't worth more than the Mahogany sound-wise. I like that Taylor grows their own Koa and it's a little more interesting to look at for me then the other GS Minis. This is why if you want a GS Mini and this guitar is 300-400 dollars more expensive than the other models. Don't be afraid to check out some of the more affordable GS Minis. They are just as good. They're a different kind of wood(Mahogany or Sitka Spruice) which does sound tonally different, but most people won't notice and farther than that: once it's mixed with other instruments and vocals, no one cares any more what kind of wood your guitar is. Anyway... Hope I helped someone!
Musical Background:
Rock/Metal/Hip Hop
Musical Style:
I am a rock/metal drummer, a funk bassist, and a horrible guitarist.
2 of 2 people (100%) people found this review helpful. Did you?
Thanks for your opinion!
---
Submitted December 20, 2022 by john A/K/A Machais Music Man page in East Machias, ME
"Buy one! Now! You Will Love this guitar!&quot
Verified Customer
zZounds has verified that this reviewer made a purchase from us.
I was a little hesitant to buy a mini guitar but zZounds having this one sale for 299.00 if you buy a Taylor Academy I pulled the trigger! I had to wait for it to come in a week or so but SSSSO glad I waited and decided to buy this one! First off it was almost in tune and what a beauty! Not a single blemish and picture do not do the beauty of the Koa justice. Action is spot on and neck is so smooth. Now being a mini it isn't as loud as a bigger body guitar but plugged in this is loud and I mean LOUD. I would highly suggest a Planet Waves PWSH01 Screeching Halt Sound-Hole Plug for 6.95 right here at zZounds because the pick up is hot and will feedback like frankenstines monster. Super loud and easy playing guitar, you won't be disappointed at all, plus it comes with a sweet case!!! If you want to hear it - https://youtu.be/oMZso0gPt1U
Sound
This is one of the best guitars I have ever played, incredible sound but plugged in it comes alive!
Features
High quality all the way around!!!!
Ease of Use
Super easy to use and play!
Quality
It is a taylor which are my favorite guitars always.
Value
Well worth the price and a steal if you grab in on sale!
The Wow Factor
The Koa is beautiful and pictures don't begin to do it justice!
Musical Background:
Rock, metal,pop and country
Musical Style:
I play anything and everything and love all music
1 of 1 people (100%) people found this review helpful. Did you?
Thanks for your opinion!