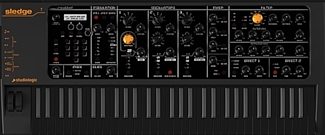 Experience the detailed sounds of the Studiologic Sledge 2 with this special Black Edition. Includes 24-voice Waldorf synth engine with 999 saveable presets.
Overall User Ratings
(based on 2 ratings)
Submitted December 20, 2018 by Dave G in poplar, MT
"A nice surprise&quot
Verified Customer
zZounds has verified that this reviewer made a purchase from us.
I bought mine here, a few months ago. It looks amazing and feels pretty nice to. There may be a slight issue with the volume at a very low setting where the knob does not work as smoothly as I would like. Sometimes I get unexpected results when I work a knob setting, these can be a great thing! The subtle changes that can be achieved are very interesting, even to someone who has a few wave scanning synthesizers...this one is well worth using. The keys feel very nice too. I like the way the outputs are on the side and having the headphones there too works out nicely. There is room for a small box on top or put you phones there. The keyboard is not very heavy- yet it is sturdy. I already have 2 other actual German designed Waldorfs, Q and the Blofeld and this is actually a good addition. Layer the sounds, sample your euro stuff and play wav tables, it's all good. The envelopes are fat with a fantastic feel, the effetcs are pretty good and the 2 seperate osc. are very nice. It is a good machine to learn on and can go pretty deep as far as it's programmable features go. I saw a recent post where someone said they paid 4k for the Waldorf Quantum, just to use as as sampler, I say forget that for now and do a little experimenting...I can use software to do granular, sample it and import it in a fairly short time. Results, rell, I am happy right now. Do want a quantum or the Sequential x? Sure, that will come later. Maybe someone will make something better by then, who knows? The main thing is, for me, do I want instant play ability or something unique I designed and forced (encouraged) to happen? It depends. I make sounds I find interesting and use them when I need them. Did I mention the HUGE storage slots for patches? Yeah, the Sledge has them.
Musical Background:
Many years, samplers, analog, digital, computer, I play anywhere I can.
Musical Style:
Techno- electronic, experimental, ambient
12 of 12 people (100%) people found this review helpful. Did you?
Thanks for your opinion!
---
Submitted February 2, 2021 by a customer from gmail.com
"Sounds great, but running into compatibility issues&quot
Verified Customer
zZounds has verified that this reviewer made a purchase from us.
The sledge is on backorder just about everywhere I looked. Sounds great right out of the box, and the ability to manipulate sounds with effects and 3 oscillators is a really great feature fo anyone into engineering really unique and specific sounds. Compatibility with other equipment is where this product fell short for me. There is an issue where playing 2 or more notes can cause the sounds to be sustained, especially when connected to a drum machine through MIDI. There doesn't seem to be a fix for it, and the problem has been around since the yellow sledge was introduced. It may not be an issue for everyone, but it is a dealbreaker for me. I may be returning mine soon, which is pretty disappointing considering that I had to wait a month and a half after I ordered it to get it.
1 of 1 people (100%) people found this review helpful. Did you?
Thanks for your opinion!