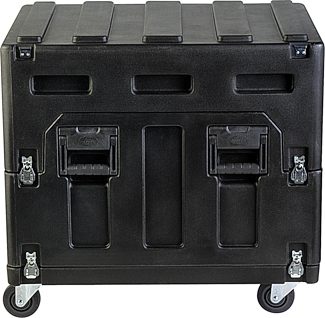 The SKB Mighty GigRig rolling rack system features a molded ergonomic design with angled top for mixing board and 10-12U rack space below.
Overall User Ratings
(based on 9 ratings)
Submitted March 16, 2011 by a customer from joshhontz.com
"Beast of a case that'll keep your gear safe&quot
Verified Customer
zZounds has verified that this reviewer made a purchase from us.
This thing's a beast, but it holds a lot. Make sure you've got room in your vehicle for it, and you'll love it.
Features
Includes 6-space rack rails on the front of the unit, but it does not come with rear rails. This was not a problem for me, as I was hooking up a snake that would be stored inside the case and unrolled out the rear of the unit, so those rear rails would not have been used anyways. On two of the four latches that connect the lid to the main body of the unit, there are small holes in the latch that allow a suitcase-style lock to be used to keep people from taking off the lid and messing with your gear. It's got locking caster wheels, too. It doesn't say so in the description, but my unit DID come with rack screws, a whole bunch of 'em. I didn't know that and bought 50 screws at the same time, and now I've got more than I could ever need. One last thing: the main body of the rack doesn't have a floor. I'm sure that they did this so you could attach an additional 6U of rack space below the main body and run cables between the sections, but this means that whenever you want to change the unit into the stacked lid-on-the-bottom mode, you have to take everything out of the main body compartment. Otherwise, it'll just fall through. I solved this by building a floor out of some leftover wood flooring.
Ease of Use
You definitely need two people to lift this thing, even if you don't have any gear in it. It's got two folding handles on each side, which makes lifting easy. It's also got indents molded into the front and rear of the lid, which provide additional lifting points if you need to get the unit through a doorway that's narrow. However, these molded indents don't provide you with much grip strength, so you won't be able to carry it around like that for very long. When used in the stacked lid-on-the-bottom mode, the mixer is elevated to the perfect height for mixing, and you have easy access to your rack gear. When not stacked, it's a little less comfortable to use, because if you're sitting in a chair with your legs facing the unit, your knees hit the front of the case. You don't have to worry about hitting your rack gear, but it makes it so that you have to lean and reach to access knobs at the middle and top of your mixer, which can get uncomfortable after a while.
Quality
Though the unit is made almost entirely of plastic, it seems extremely durable and road-worthy. I'm sure it'll outlast some of my other gear.
Value
It's a bit pricey, but if you've got a deep mixer and rack gear that you want to protect from gig to gig, you'll never need to buy a replacement.
Manufacturer Support
Haven't had to deal with it.
The Wow Factor
Looks awesome, it's all black, and it doesn't show scuffs.
Musical Background:
Pianist, Recording Engineer
5 of 5 people (100%) people found this review helpful. Did you?
Thanks for your opinion!