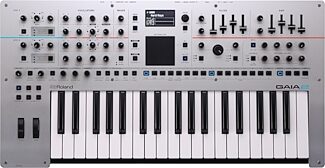 With a versatile sound engine and more patches available online, the GAIA 2 lets you dial up the sounds you need and play them expressively and intuitively.
$899.99
---
No Credit Check

No Credit Check
Overall User Ratings
(based on 1 ratings)
Submitted October 15, 2023 by a customer from gmail.com
"A Welcome Addition to the Roland Family&quot
The Roland Gaia 2 is a welcome addition to the family of Roland synths. It sounds very modern and to my ears is literally always better sounding in its rich unison mode. The setup of one wavetable oscillator with two standard virtual analog oscillators is a novel design but propels creative thinking. It's almost always useful to use the unison mode over subtle detuning of the oscillators instead creating intervals & injecting high or low harmonics over the principal tone. I like the sound of the synth so much that I consistently forgot to program the tone knob but to my ears it doesn't make as much of a sonic impact as on all the Roland Cloud Plug Out synths I've programmed. This thing sounds modern & great at so many settings. Definitely using the P-mod & S-mod settings is almost always a must when using the wavetable oscillator & don't forget to select the S-mod tables as these all impact the harmonics with a lot of variation. The synth is laid out very intuitively & although the synth is boasted as knob per function it is not. The menus for making fine adjustments or accessing other parameters are well laid out & only have one sublayer for each section. The filters are all quite pleasing & have their strengths for different applications. The drive circuit is really crucial in this synth & I especially enjoyed setting my drive by cranking the resonance & bringing in the drive to tame the resonance. The effects are pretty great but I opted to literally always program a notch filter in the multi effect slot as to be a second filter since notching sounds is so incredibly important. It is a miss that the chorus insert isn't switchable to a phaser or flanger but it delivers more consistency & with the unison mode the chorus isn't always necessary. The reverb options are a nice inclusion but almost always require lower wet & time levels. This causes sounds to sound big without sounding wet & reverby. The LFOs aren't as fast as I'm used to but all this does is prevent from making more aggressive analog FM type sounds. Having four destinations for each LFO is excellent & the necessity to do each oscillator's pitch mod independently results in more thoughtful programming. Being able to select destinations for each LFO modulation slot right from the control panel is a dream & I hope other synth manufacturers follow suit. I've overlooked the x-y pad programming opting to leave it at its default cutoff & resonance modulation routings. I wouldn't use this myself & would probably always prefer to control in real time with the knobs. The keys feel very natural for synth action. Velocity responds as expected & the limitation of modifying cutoff resonance & pitch envelope amount along with the default of volume with velocity is actually a strength. Definitely rolling off your attacks & decays for envelopes sounds best on this synth. While it's nearly always important on any synth to have a somewhat soft attack & decay on an amp envelope to prevent unpleasant clicks except when using a gate to access an envelope for additional modulation, this synth actually sounds best when using even subtle settings of filter attack even when you would assume you don't need it. With the mod envelope you don't need the attack when doing pitch sweeps but with modifying things such as the wavetable position it helps too. The sequencer is great with various timing subdivisions & up to 64 steps. My ONLY complaint is the lack of a tap tempo function. I think this should probably be an inclusion of every synth with a sequencer. I would call this synth's sound in my applications unison smear. The Gaia 2 is charming & modern and while it has a sound that won't be right for all applications it will definitely compliment a track in so many ways when choosing the perfect sound.
Did you find this review helpful?
Thanks for your opinion!