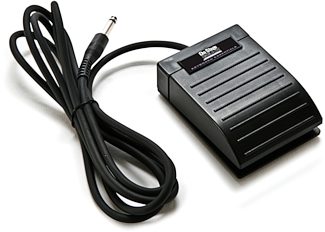 Add depth to your sound and hear your notes ring out when you connect the On-Stage KSP20 Universal Sustain Pedal -- it fits any keyboard with a 1/4" jack.
Overall User Ratings
(based on 2 ratings)
Submitted June 15, 2010 by a customer from yahoo.com
"It lasts for two hours&quot
This product has the lifespan of a day. Pass it up, trade it in, invest in a better quality pedal.
Sound
The sound is fine, it sounds good with my Yamaha keyboard.
Features
Not much in terms of feature, spring pedal with not a lot of effort to push.
Ease of Use
It is easy enough at first until it starts screwing with you and you have to press hard or move the switch in the back around.
Quality
This is my biggest issue. I had it for maybe two hours and it already broke. Along with it being a cheeply made plastic pedal with a spring, the electronics must be malfunctioning too. Sustain can no longer be activated by the pedal, i can either always have sustain on, or always have it off. So i have a useless pedal and a sustain switch. Not even worth it for the affordable price. Invest in a better pedal.
Value
For the fifteen to twenty dollars you spend, youd think youd get a pedal that would at least last you for a decent amount of time. However, the best bet is to invest a little more money in a better quality pedal (Yamaha makes affordable and well made pedals). I wouldnt recommend this unless your giving it as a cheep birthday gift for your nephews first keyboard for his seventh birthday.
The Wow Factor
Disappointing again. Its very simple. Rough plastic and squeaky hinges just make this a tiny eye sore. At least it keeps you from getting your hopes up about everything else.
Musical Background:
Active Musician
Musical Style:
Progressive
16 of 17 people (94%) people found this review helpful. Did you?
Thanks for your opinion!