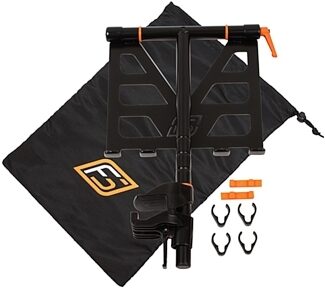 The Fastset Fast-Attach Adjustable Laptop Stand is quick to set up and features an adjustable tray angle to accommodate up to 14" laptops or any tablet.
$149.99
---
No Credit Check

No Credit Check
Overall User Ratings
(based on 1 ratings)
Submitted February 9, 2021 by Abel York in Austin, TX
"Couldn't figure it out&quot
And i'm as savvy as the next guy. But it seems like you need the Fastest Fast Attach Table that is sold separately in order for this to attach to anything. It seems like the c-clamp is specifically made, and WONT work on a regular surface. Instructions refer to a specific table and NOT ANY TABLE.Wish I had known before dropping this much cash on it. But, returning is too much of a hassle for me, and I found another use for it so I'm not completely pissed.
Sound
Feel like I was hustled. I never read anything about another part I needed until I tore everything opened and found vague instructions.
Features
It's built well, but the clamp could have been universal, and it being so expensive really had me excited.
Ease of Use
Ive spent a couple of hours of my life trying to get this stand to clamp and hold sturdily with everything in my apt.
Quality
If you had the table they don't mention, it would work well I hope.
Manufacturer Support
No attempt.
The Wow Factor
I didn't use it as one item. I'm using the pole and the SUPER FAST SURFACE thing on my elec drumset to hold my Akai MPX8. So it has some use.But not with a laptop nor a table.
Musical Background:
Drummer
Musical Style:
Animal style
Did you find this review helpful?
Thanks for your opinion!