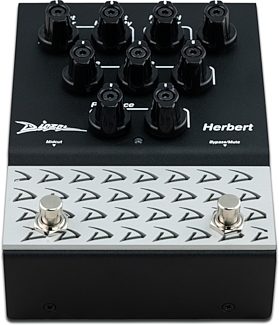 Get the same searing gain, punishingly tight low end and finely tuned midrange of the monster Diezel Herbert head in this pedalboard-friendly enclosure.
Overall User Ratings
(based on 2 ratings)
Submitted January 14, 2019 by Darius M in Chicago, IL
"Total destruction&quot
Verified Customer
zZounds has verified that this reviewer made a purchase from us.
I was searching for powerful distortion pedal. Play usually metal , and needed something with crushing low end to match my Laney AOR 100 MV. Actually I was tired with all that Marshally sounding pedals and then I saw YouTube review of Diezel Herbert vs Diezel VH-4. Herbert sounded to me more bassy , so that was my choice. When arrived I sat it immediately and started to play. To be honest , first impression wasn't so great. I didn't know how to dial in and needed a bit more time to learn this pedal. Other thing was I played at room level. Next day I bought 18 V power supply ( factory power supply is 12 Volt) . I prepared rig like this : first after guitar Bogner Lyndhurst compressor , second Boss NS-2 Noise Suppressor . In the loop of NS-2 Diezel Herbert and DOD FX-10 BiFet boost .Next after NS-2 is Walrus Fathom reverb. Everything into low input of 1987 Laney AOR 100 MV. I crank amp up and …...my jaw dropped. Potential of this pedal is incredible. EQ works totally fantastic. No hissing highs or boomy bass. Low end is crushing. What is interesting , this pedal sounds so great playing riffs and shredding solos . Another great function is mids cut channel. You can switch from regular channel to mids cut channel. Another fantastic sounds opportunities If about gain , I didn't pass 1 o' clock with this pedal. Total power. If you guys ever used Bogner Ubershell , imagine this pedal got more power and more low end ,especially with "Deep" function. So definitely this is the best distortion pedal I ever used and I would recommend to run it with 18V power supply . I'm giving it 5 stars is any category except MANUFACTURER SUPPORT. Some time ago ( about two weeks ) I sent question about this pedal and registration to Diezel USA . They never answered , so I expect if something happened to this pedal , I will have to deal with Diezel Germany . Probably they haven't establish any service or support in the US, except dealership. Kind of sad, cos they making great stuff.
Musical Background:
Play guitar from the time I can remember.
Musical Style:
heavy Metal
7 of 7 people (100%) people found this review helpful. Did you?
Thanks for your opinion!
---
Submitted February 15, 2019 by Dariusz Maroszyk in CHICAGO, IL
"Standed for 40 days&quot
Verified Customer
zZounds has verified that this reviewer made a purchase from us.
So after 40 days my Diezel Herbert broke. Probably switching channel relay. I'm unable to switch between channels. Very disappointing especially for $300 pedal. I'm not even trying claim any warranty from Diezel . I sent a question about registration of my pedal to them two days after I bought this pedal and get answer after 4 weeks from.....distributor Boutique Amps informing that I do not need to register my pedal. So...kind of weird. Now when pedal broke I know that claiming any warranty with Diezel gonna be a hell ( or I'm mistaken). So I decided to return this pedal. Sounded really great .
Musical Background:
Playing guitar for many many years
Musical Style:
Heavy Metal
3 of 4 people (75%) people found this review helpful. Did you?
Thanks for your opinion!