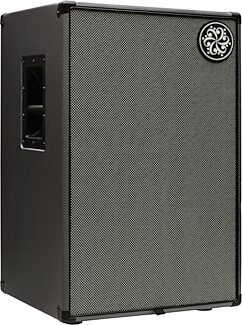 Modern musicians expect a lot -- Darkglass delivers! The Darkglass 2x12" bass cabinet features carbon-fiber tolex and custom-made Eminence neodymium drivers.
Overall User Ratings
(based on 2 ratings)
Submitted February 5, 2022 by Keger Jupit
"Big gamble...Huge payoff!&quot
Verified Customer
zZounds has verified that this reviewer made a purchase from us.
I've owned this cab for a few months now...so it's time for a review. I considered this a gamble because 1) I didn't get to try it out first, 2) I could find precious few other reviews. However, TLDR version is that I am extremely happy with it. It has no faults so far.Rig; Demeter VTBP-201 pre & QSC GX5 power amp, also an Eden WT400.Basses; 2003 Korean-built Lakland 55-02, 2009 Jaco Artist Series Jazz, 1999 Czech-built Dean Jeff Berlin.Experience; 30 + years, a bunch of gear!Currently, I play in a cover band that does a bit of everything; rock, country, funk, jazz, pop...lots of stuff. Versatility is a must with the gear I buy. I know most of us equate Darkglass with metal (as well we should), but this cab has handled everything I've thrown at it. My ideal tone is clean & clear, with lots of support & punch. I don't care much for lots of treble, but I'm not after the B-15 sound, either. This cab has a ton of low end, but it isn't mushy or wooly. It just moves big air with clarity; pantlegs flap, booties shake, Daddy is happy. The high end is superb, with a smoothness & sweetness that is very pleasing to the ear. Big kudos for the tweeter & attenuator must be given. I normally hate tweeters, either turning them off or unplugging them, but this tweeter is actually quite musical & the attenuator works a treat, making a real difference as you work it. ...& then, this cabs' secret weapon, its midrange voicing. I am firmly in the camp that believes that bass is for moving air, treble is for letting everyone know where on the fretboard you're playing, & midrange is where ALL of the good stuff is. It's your tone, your voice, your sound. This Darkglass 2X12 has a killer midrange sound. It's not honky or nasally. Instead, it can go from a gut punch, low-mid hit to a eardrum battering high-mid growl with ease...& it stays, well,...usable & musical. I previously owned a Mesa Powerhouse 2X12, & so far, I like the sound of the Darkglass better. It is a perfect match for my Demeter, especially with a 5-string. If you play smooth & light, it envelops you in pillowy, fat support. If start to dig in a bit, it can really snarl. It has been great in reproducing what I want, when I want, i.e. it responds really well to my right hand technique. And if you play with a pick, do yourself a favor; check out this cab. Full disclosure, I don't slap women, & I don't slap basses. I do know a couple basic lines though, & the cab handled them so well that I'm re-thinking my stance on slapping basses!The icing on this Dark & Glassy cab is twofold. The weight, & the aesthetic. My cab of choice for many moons was an SWR Goliath II. I still own it, still love it, & it can still smack the mouse fur off of most any cab out there. But it is HEAVY & I'm not getting younger. The fact that the Darkglass weighs under 45 lbs is just fantastic. I've tried other neo-equipped cabs & have been underwhelmed by the lack of tone, but not here. The DG sounds amazing, & is lighter than I thought it would be. As for looks...well, let's just say it is stunning in the flesh. The "carbon-weave" looks like it came straight off of a MotoGP starting grid. Gorgeous...At just over $1,000.00, I consider it pretty good value for the money. Working with zZounds was completely painless, thanks gang! Sounds fantastic, looks good...I'm a happy camper.
Musical Background:
30+ years
Musical Style:
Jazz/Gospel kid trapped in a Rock/Country/Funk kid's body
12 of 12 people (100%) people found this review helpful. Did you?
Thanks for your opinion!
---
Submitted July 25, 2022 by a customer from gmail.com
"Don't say it's "only" a 212&quot
Verified Customer
zZounds has verified that this reviewer made a purchase from us.
I bought this cab and the e500 together. I had never even heard or seen Darkglass anything in person, so I was just going off YouTube and Facebook pages for reviews and info. I had an old Hartke 115 and Peavey 210 with a dinosaur Peavy hybrid head and it was all pretty worn and haggard, and HEAVY. Plus I just couldn't get the sound I wanted. So I started by ordering a new bass first, Fender Deluxe Active Jazz Bass V. Then the search for a new rig was on. I was eyeing Aguilar and Darkglass online for a few months.I was reluctant about the e500 because I didn't think 500 watts would be enough, and it was "only" one 212. So I ordered them, they showed up, and my world changed. I'll just focus on the 212 for the sake of where this review is. My first gig with the 212 was an outdoor dance and I didn't think I had enough rig for the gig. Well, the 212 absolutely blew everyone away, myself included. The lows were deep, the mids were super punchy and rich, and the highs were crisp. Nothing sounded muddy or distorted from being overpowered or over eq'd. Next gig was a bar gig indoors. It filled the room and cut through the mix supremely. I got compliments all night about how good the bass sounded and my little cabinet was freaking incredible.It's visually appealing, the control for the tweeter on the back has come in handing for fine tuning my tone, and it's super light! This cabinet fits in the back of my BMW 335i with all my other gear. All in all I am super pleased with this cabinet. It hits way above its class and exceeded all expectations. If you're on the fence about it, trust me when I say this thing will not let you down.
4 of 4 people (100%) people found this review helpful. Did you?
Thanks for your opinion!