Customer Kudos
"Excellent service, excellent quality. Have always had a good experience purchasing from zZounds."
January 4, 2022
12 products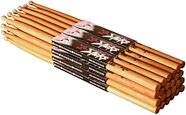 These 12 pairs of On-Stage hickory drumsticks deliver well-rounded response and flexibility that lasts through even the most self-indulgent of drum solos.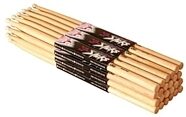 Stock up on sticks with this 12-pack from On-Stage. These maple drumsticks come with your choice of nylon or wooden tips in a variety of sizes.

Tired of breaking wooden sticks? Try aircraft-grade aluminum Ahead drumsticks. These 16-inch medium-taper 5A sticks are the choice of hard-hitting drummers.

These awesome drumsticks are nearly indestructible and feature a vibration reducing design that cuts down on hand fatigue.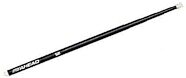 Want a drumstick crafted from the strongest materials? The Ahead Rock drumsticks feature aircraft-grade aluminum, a short taper and replaceable shaft covers.

Are you tired of replacing broken drumsticks? Sturdy enough for Metallica drummer Lars Ulrich, these Ahead aluminum sticks can really take a beating.

Do you break wooden sticks easily? Ahead 7A Aluminum Drumsticks are built to outlast the other sticks in your bag.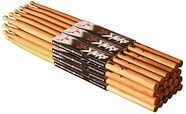 These On-Stage sticks are made of American hickory to give you the strength, durability and longevity you need to get you through to the end of your set.

When you need top-notch feel and durability, reach for On-Stage sticks! Crafted from premium American hickory, these sticks offer drummers a stellar value.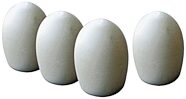 These replacement tips for Ahead's MT, LT, and ST drumsticks are the perfect solution and easy to use so you can get back to the beat.

Cut down on hand fatigue with the ergonomic design of Fat Beat 5AMT aluminum drumsticks by Ahead.

Are you a hard-hitting drummer that's made the switch to aluminum sticks? Make your sticks last longer with these durable replacement shaft covers.