Customer Kudos
"zZounds has a fantastic selection at great prices. Love the Play as you Pay and the fact that they don't over charge you for "no credit financing" like other companies. They are obviously doing it for the love of musicians, not money."
July 30, 2023

Yamaha AG Series
Professional Sound for Your Livestream
Livestream video content asks more of its creators than perhaps any other medium: you need a solid video setup, compelling visuals, on-screen talent, a powerful computer, and of course, great-sounding audio. Yamaha developed their AG series to help content creators nail the audio portion of their livestream workflow.

With three mixers plus a USB microphone offering features like on-board DSP, loopback functionality, and separate USB-C ports for handling data transfer and power, everything about the AG series is designed to make livestreaming easier while expanding the scope of what you can do. Read our Spotlight guide to learn more about what Yamaha has to offer content creators!
Shop Yamaha AG Series »
AG01 Livestreaming USB Microphone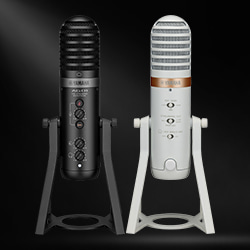 It all starts with your voice. Yamaha's AG01 was designed from the ground up to amplify the voices of livestreamers and content creators and give them the tools needed to perform their best. It's simple to get started with the AG01 -- just connect to your computer or mobile device, plug in headphones, then set your mic gain and monitoring output levels!

But there's so much more to the AG01 than quick setup. Add reverb with a single touch, and control other DSP effects like compression and EQ shifts via the AG Controller app. Versatile I/O allows you to easily mix music from a mobile device, a remote guest via voice chat, or live instruments in with your voice, all right on the microphone! And last but not least, the AG01 mic looks great in any studio thanks to its integrated stand and the choice of black or white finish.
AG03MK2 Livestreaming USB Mixer
For those who already own an XLR mic and want to get up and running with livestreaming, the AG03MK2 is the perfect choice. Channel 1 offers an XLR-1/4" combo mic/line input with 60mm fader control, phantom power, and Yamaha's easy-to-use one-knob compressor, while Channel 2/3 has a hi-Z 1/4" input for guitar or line in, and stereo 1/4" inputs for keys or other electronic instruments. There's also a 1/8" TRRS aux input perfect for streaming music or videos from a smartphone. Comp/EQ, reverb, and a mute switch are all at your fingertips, and the AG Controller app offers the ability to fine-tune your DSP effects.

Peak and signal indicator LEDs help you constantly keep your audio in check and easy-to-spot gain and monitor level controls make adjustments easy. Loopback functionality makes incorporating outside audio from a smartphone a breeze, giving your livestream a distinctive vibe. Available in black or white.
AG06MK2 Livestreaming USB Mixer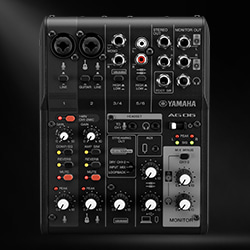 Double what you can do! The AG06MK2 takes everything the AG03MK2 offers and expands upon it, with an additional channel featuring a second XLR-1/4" input and preamp. This is the best choice for livestreams that consistently feature two or more in-person hosts or guests, or streams that feature a singer and instrumentalist.
Like all other devices in the AG series, the AG06MK2 easily adapts to suit your workflow and production space. Want to mount it on a
mic stand?
You can, with Yamaha's BMS-10A adapter! Need to run a livestream on location or outdoors? It's easy to connect the AG06MK2 to an
external battery
via its dedicated 5-volt, USB-C power port for a simple mobile streaming rig. Available in black or white.
AG08 Livestreaming Mixer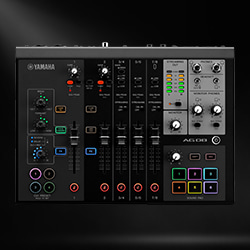 As the biggest and baddest mixer in the AG series, the AG08 gives you all the tools needed to run professional sound and take your livestream to another level. Channels 1 and 2 are loaded with high-quality preamps, getting the most out of the voices on your stream. One-touch voice changer, comp/EQ, reverb/delay, and amp sims put a ton of creative potential at your fingertips on these main channels. Channels 3 and 4 offer additional 1/4" inputs, and there are also RCA inputs and 1/8" I/O for mobile devices across channels 5 through 8. Dual headphone outputs, plus stereo XLR monitor outputs and twin stereo 1/4" mix outputs complete a versatile I/O section.

Instantly call up any of six samples via the 6 available sound pads to add your own unique flair. Just like with the other products in the AG series, most of the parameters on each channel can be adjusted in fine detail on the Yamaha AG Controller app. With all of the incredible functionality the AG08 provides, its a powerful partner in elevating and developing the identity of your stream. Available in black or white.